Today's post is a bit different. I know, I am polarizing with this. I also know it is a bit provocative and might even be a slightly polemic. That is done on purpose to incite thought and discussion. I know there are always shades of grey between black and white.
I have been in Second Life now for many years. I met all kind of characters, people and got to see a lot of different perspectives and aspects of Second Life, RPG, sex games and virtual worlds in general. Sometimes I met people and asked myself: "What is he/she doing here? Hey, dude you took the wrong exit".
I will try to portray some of these stereotypes in the following and even show them alternatives:
The Sex Gamer
Yes I know, I am in the sex business myself. In addition, I actually pretty much enjoy the sexual part of Second Life very much. Nothing wrong with that, who am I to judge. After all, I am an escort who actually makes money offering what you are looking for in Second Life.
However, are you one of those guys or girls who every time you log into SL all you want, all you think about is getting laid?
Do you get bored easily, when somebody talks to you about building, social events, sailing or the Second Life economy? You TP away when you realize somebody is not into sex right now?
Do you always wear the same outdated outfit? Is your home (if you can be bothered having one at all) a cheap sky-box rental with a strong focus on sex animations?
You spend all your time in sex regions, nude beaches or escort places?
When you see an attractive lady you almost immediately come out with a sexual approach, ranging from "very sexy avatar" going over to "looking for some fun?". Or is your approach a straight forward "wanna fuck?".
I just met one of you guys yesterday at the bar in my office (see featured picture), which actually inspired me to write this post.
I have got news for you. Bad news and good news. The bad news is that Second Life is not the right place for you. You are wasting precious time which you could actually spend on virtual sex elsewhere.
Unless you are using escort girls in Second time, it takes far too much effort to chat up a girl and most times you end up being frustrated, even angry.
You did not realize, that Second Life is not a virtual swinger club. Let me ask you this: If you would walk into a real life bar, dance club, a shop or on a public beach, would you behave the same way? You probably would not.
The good news is, there is a place on the internet which would suit you much better. A place where people go with the intention to have virtual sex. Full stop. Not only that you meet people there with the same motivation as yourself, but the sex is actually better than in Second Life. Better graphics, better animations. It also features some social spots like music clubs and similar locations full of people who joined an online 3d sex game with guess what in mind. Easy game.
I wrote a couple of reviews and stories about my own experience in 3DXChat. You find them here: Caroline in 3DXChat.
Here is the door: 3DXChat
The Time Waster
You have lots of time on your hand and you spend most of it in Second Life. You are not for business reasons in Second Life. It's not that you see Second Life as a potential alternative to a real life job. You are just having fun, you go dancing, you are chatting with your friends and even spend some money (which you do not really have) for shopping in Second Life.
In real life you are physically in good shape, you have got no health problems or other serious issues, but for whatever reason you are unemployed since quite some time. You haven't got huge savings and the monthly bills cause you sleepless nights and headaches.
Listen honey! Seriously, get awake! Shut down this fucking computer and go get a job. If you can not find one, think about alternatives.
Take courses, finish your studies, improve your CV, send more job applications, consider moving elsewhere, do voluntary work. Do anything but Second Life.
Once you have sorted out your first life, please come back on the weekends or evenings. Its gonna be so much more fun to you.
There is another option:
Try to see Second Life from a different perspective. Make it your job! No, I am not talking about escorting or becoming a stripper. There are plenty of opportunities. But be serious about it. It takes a lot of learning, practice, patience and time.
The most successful designers in Second Life work hard on their stuff. A work day in Second Life means for most of them 12 or more hours actually creating things, finding marketing opportunities, serving clients and much more.
Stay away from the clubs for now, read tutorials instead. Make a compelling website and learn how to promote websites. Talk to successful people in Second Life and learn from them.
Do you know the story of the creator of TNT Furniture? No? This is a must read for you then: Sex beds: the story of a Second Life furniture magnate.
The guy is making 3.000 US Dollar in a single week! By the way, this blog you are reading at the moment is actually a serious source of income for myself. Want to know, how to make money with blogging? Contact me inworld for a chat about that one.
Stop wasting your time and do something productiv, which can potentially change your live!
The Online Chatter
The first questions you ask somebody you just met in-world are, "how old are you?" and "where are you from?" You get annoyed, even aggressive when somebody has no real life info on their profile. Terms like "immersion" or "virtual personality" sound suspicious to you. Anyone who portrays the opposite gender in Second Life is a "fake" to you. You ask for RL pictures and voice verification.
You even insist, thinking you have the right to know. You call people names if they refuse.
You intrude in somebody's real life without their consent. You even believe this is totally acceptable. Ideally you would love to meet up in real as well or at least meet on Skype.
You are not a bad person. You simply did not understand the concept of Second Life. That's OK! I have a constructive suggestion for you as well. There are places on the web, which would suit you much better. I am not talking about the obvious ones, like dating sites, Facebook or ICQ Chat, because you obviously like the visual effect of 3D graphics.
Try IMVU. It is a 3D graphical chat with a lot of 3D chat rooms. Imagine a hyprid between ICQ and Second Life and you are not far off.
They have adult options as well and they demand age verification with an actual ID or passport. Most participants have a similar attitude as you have and the best thing about it is: there are between 80.000 and 100.000 chatters like you online any time of the day.
Yes, the graphics are not even close to what we are used to from Second Life, but hey that's not that important to you, is it? You prefer to see the real person behind those pixels anyway, right? Good, nothing wrong with that mate. You just ended up at the wrong place.
Give it a try here: IMVU.
The Intolerant Asshole
You judge other people's sexual orientation or their sexual fantasies. Being gay is either a perversion or a sickness to you. People into BDSM need urgent medical attention in your opinion. The lowest form of virtual life are escort girls and strippers in Second Life.
You have a problem with creative people who reinvent themselves completely in Second Life. You belittle every avatar which is not 100% human. You think Furies are a childish stupidity and everybody living as a child in Second Life is a pervert.
You ignore people for not speaking English and your prefer the company of people from your own country, white people of course.
Mate, you definitely took the wrong exit. This is not for you at all. Do us a favor: Please leave! Unfortunately, I can not even recommend a sound alternative in your case. Maybe try a Donald Trump fan party or the Ku Klux Klan. I am sure you would make a lot of friends there.
The Griefer
You had fun last night when you tested this simulation of a nuclear weapon in that night club full of people, didn't you?
You love to bump around people in Sandboxes whilst they try to concentrate on some complicated building stuff. You insult people in voice just for the fun of it. To copy or scraped other peoples work is a sport to you.
Let me tell you a secret (/me speaks with a hushed voice): The internet is not totally anonymous nor is Second Life. Not only that you disrespect the terms on which you were allowed into Second Life (TOS), you are acting on the borderline to commit criminal offenses. Don't think you are untouchable, they can get you and if you overdo it, they will!
OK, enough of this now.
Dear readers, have you met any of those in your Second Life? How do you deal with them? Did I miss out on other stereotypes which took the wrong exit ending up in Second Life?
Feel free to comment.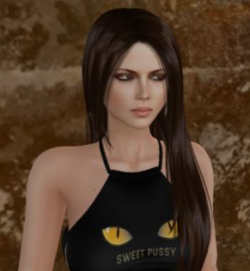 Founder of SLA Media, a company providing adult entertainment websites based on Second Life. Caroline has years of experience in the field of SEO and affiliate marketing. She runs an escort business within Second Life and is well known in the sl adult community.