ThriXXX will launch a new "Escort Mode" for Chathouse 3D this week. Escort Mode will allow Chathouse 3D users to monetize interactions with other users. This will open up the adult app to web cam girls and other adult service providers looking for alternative revenue sources. Users will pay per minute for services and can connect instantly or schedule appointments with service providers.
The Escort Modus is interesting for amateur as well as for professional models, because there is no fixed timetables or minimum hours, like you would have in most escort clubs in Second Life. Anyone can set up an account and login as an escort.
For every session you play with another user you get paid per minute. The more you play the more you earn. You also have detailed statistics about play times and revenues.
For other players that means there will always be girls available to play with. In the past for many players it has been proven to be a bit more complicated to actually find a girls willing to play. For those the escort modus solves that issue.
There is catch however.
As an escort you do not get paid with real money. You get paid in their in-game currency called "xcoins". Unlike Linden$ xcoins are not exchangeable into real money. You can only use them to buy stuff at their shop or pay for game upgrades.
They changed that part. The client actually pays in xcoins, but the escort gets paid the corresponding amount in cash to her/his bank acount. This requires identification with a passport or an ID.
How to make real money with this then?
Yes, there is way to make real money with this. I am not talking about the little bit of cash some Second Life escorts make. I am talking about serious money. Very serious money. If you are doing this consistently and if you are dedicated to this, you might be able to make a living with this. There are people making in excess of 10.000 USD Dollars with this in a single month.
But, as always in life, it requires to do more than just a bit of in-world fucking. It requires small initial investment and time. How much time depends on you of course. However you should plan at least 10 hours per week.
Ready for this?
Ok, here is how it works. I explain it step by step.
Step 1: Sign up for the game!
Becoming a member at the thrixxx chathouse 3d is free. However, the free version is very limited. For one the sex parts are pixelled. You can not see pussies, cocks ot nipples. The amount of animations is also very limited.
Sign up here: Thrixxx Chathouse 3D
Step 2: Buy some coins!
There are different packages of xcoins available. You should go for the 50.000 xcoins package. This costs 49,00 Euros. You need xcoins to actually upgrade your avatar. Nobody will pay for sex with an ugly escort girl. Period. You need to be good looking for this and the standard noob avatars are not what I would call sexy. Sounds familiar?
Step 3: Create a decent avatar!
You don't need to look like a top model either. But you need to invest a bit of time, effort and xcoins into your virtual appearance. It will pay for itself later on. The way you do this is relatively simple. Thrixxx has a tool which they call the "avatarmaker". It is an easy to use online tool to create an avatar, which you can later import in the game.
Step 4: Create a blog!
Setting up a blog is relatively easy but requires some minimum knowledge about managing a hosting account. However, you need your own hosting space and domain for this. The reason being is, that most blog systems are very restricted, when it comes to advertise adult content, which is what you will be doing.
The easiest way to do this, is get a hosting account with a provider who has WordPress pre-installed. This saves you having to install WordPress via FTP yourself. Register a suitable domain, set up your WordPress blog, choose a design template and off you go.
You might think now. "Oh no, I am not sufficiently skilled to do this, I can't do this". Well, go learn it! You can do it, if you really want and it is not rocket science either. Making an online income requires to learn some basics. If you are not prepared to do that, this is not for you. Sounds harsh? No, its the truth. No such thing as free lunch here. If anybody promises you an online income with no effort and no skills required he is about to scam you.
Step 5: Become an affiliate partner!
Sign up here for the thrixxx affiliate program: Make money with thrixxx
As an affiliate you get commissions whenever somebody signs up for the chathouse 3d game and buys xcoins or signs up for a subscription. Commission starts at 50% of whatever the new member spends for xcoins. If your monthly sales volume hits 6.000 Euros (or USD depending where you are based) your commission is 60%.
That makes a whooping 3.600 Euro per month! Are you making this in your job?
Using this link to become a thrixxx affiliate partner makes you a subaffiliate of myself. That means I will get a commission on everything you make. This is not taken away from your commissions, it is on top of your commissions.
Becoming a subaffiliate of myself has several advantages:
Technical support for your wordpress blog
Classes and support for search engine optimization
General consulting about online marketing
I want you to make money. Because if you make money I make money. Simple as that. I am an online marketing professional. I know what I am talking about. The fact that you (and 30.000 others every month) read this blog is prove for that. I even know how you got here in the first place: You either did a search on Google, or you followed a link from twitter or reddit. You did not find this by accident. I lured you to come here and read this!
Step 6: Go get fucked!
Become an escort and spend time in the game. Learn the in and outs of "emoting" (sex role play) and animations. Ideally you buy a set of sexy animations with your remaining xcoins. Make sure your clients love what you do. They will come back for more of the same.
Now you actually start making xcoins. Reinvest them in your appearance, animations and your room. In the game. The better you get the more you will make.
Step 7: Write about your encounters!
This is the most important part. For your blog to generate income, you need to entertain your audience. Write as many stories as you possibly can. Include pictures taken whilst getting fucked. However, do not reveal the users name or any confidential information about him, unless he explicitly allowed you to do so. Never.
Content is king. Content is what gets your site ranked in Google.
Step 8: Create an audience on twitter!
Twitter is probably your best weapon to get traffic to your blog. Follow other users for them to follow you. Post every one of your blogposts on twitter. Use hashtags like #thrixxx #sexgames and similar to reach your targeted market.
Step 9: Become exclusive!
Offer your sex services only to subscribers who signed up for the game via your blog. If somebody wants to use escort services, he pays in xcoins. That means he needs to buy xcoins in the first place. Ig he buys xcoins to hire you, you get your regular commission on this purchase. Now you are getting paid real money for escort services in a sex game.
You can even afford to give your subscribers bonuses. You could offer your services for less coins than the usual rates. You could give free fucks now and then. Make sure he has good reasons to spend his xcoins with you, not others.
You can not become exclusive from the very beginning of course. You need stories first.
Step 10: Get a mailing list!
Once your blog is up and running and you have a decent amount of traffic. Its time for the "formula 1" of online marketing. Getting a mailing list, is probably what will make you the most money. You are no longer simply generating sales via sending traffic to websites of your affiliate advertiser, but you are building a list of people who follow you and your recommendations. You are now able to advertize whatever product related to the topic of your blog directly to your followers.
Resume
This post just briefly describes the plan! There is a lot I could write about each one of those points. I will actually write a lot about how to make money with affiliate programs, sex games and about search engine optimization in my monthly newsletter I am working on.
If you are interested to get involved, contact me and lets talk about making serious money together.
Second Life user name: carolinstravels
Thrixxx user name: CarolineResident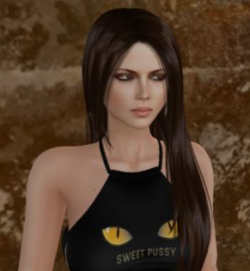 Founder of SLA Media, a company providing adult entertainment websites based on Second Life. Caroline has years of experience in the field of SEO and affiliate marketing. She runs an escort business within Second Life and is well known in the sl adult community.