When I first investigated this, there where only a few places like this. Ever since AFK-fucking became a serious trend in Second Life.
When you need a quick fuck one does no longer need go to party places or whore houses. You simply visit one of the numerous AFK fuck dummy places. You come, choose, fuck and leave a little tipp.
Done!
Second Life is a creative world. It is of no surprise that people not only copied the idea, but embellished on it. I was amazed how many different places and styles there are now for AFK sex.
I visited (as Charly) some of the most popular ones.
Le Parc
This region used to be named "Le Camping". I wrote about that before when AFK-fuck places were just about to become a popular trend. Ever since it was completely redesigned. It became the most beautiful designed AFK region I know.
The AFK Motel and Sauna
This one has a simple layout and design. Reminds almost at those clubs back in 2007. However the AFK Motel and Sauna is well worth a visit. It features a bar and dance area, as well as a full scale porn movie theater. The rooms are almost always occupied by pretty girls offering their bodies to anyone who fancies some release over pixel-porn.
I tried this one as Charleen (as usual). There was this guy, "busy with one of the girls, who saw me coming in. He started talking to me in IM. An interesting conversation developed from there, whilst I was "parking" Charleen in the shower.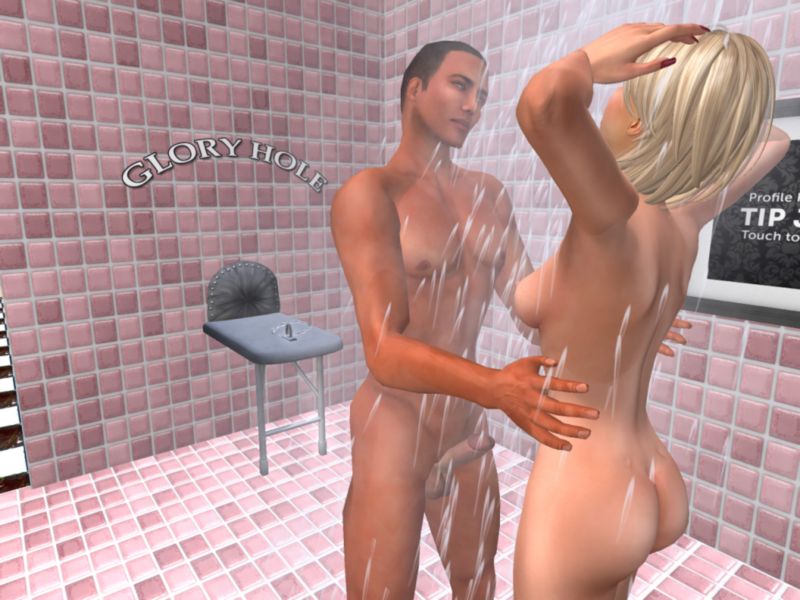 I was curious about what the kick is for him to fuck those avatars, knowing that the person behind the doll is most likely not even watching.
"Thats easy one to answer. I really prefer it with interactions and emotes, but sometimes I do simply not have the time, or I am not in the mood to go to a music club to talk and chat for hours with a girl, without knowing if I get anywhere. Here is the easy solution"
Ok, Got it. It is not a kink or a preference. It is simply about availability when horny. Dead easy.
Well, he was horny that day. That was the reason he came to the place to start with. And he liked Charleen a lot.
Hence he came over to join me in the shower and subsequently fuck Charleen. He left a generous tip after he finished too.
Silence
This one is a bit stylish one. A bit to clean and cold for my taste. But hey, if it is your thing to have sex in a gallery style environment, then Silence is for you. The name says it all. No words needed, just come and cum.

AFK sex in second life
The Fuck House
Simple yet typical Second Life house with three floors full of sexy bodies for your pleasure.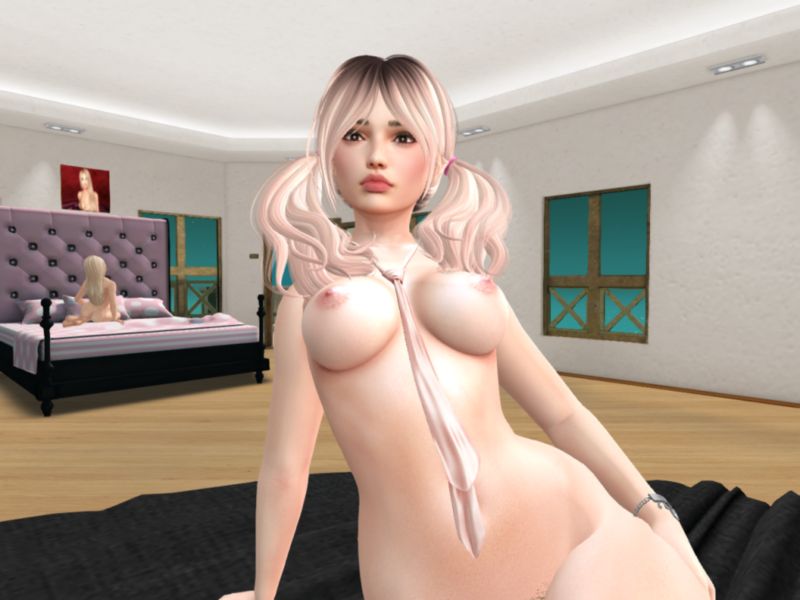 The Sex Office
This one seams to be popular amongst the guys. Isn't it every guys fantasy to fuck that pretty secretary right there on her desk? I decided to try this one out. Every desk was occupied however. The only place I found to expose my half naked, sexy body was the copy machine.
It didn't take long and a guy spotted little pretty Charleen and fucked living daylight out of her: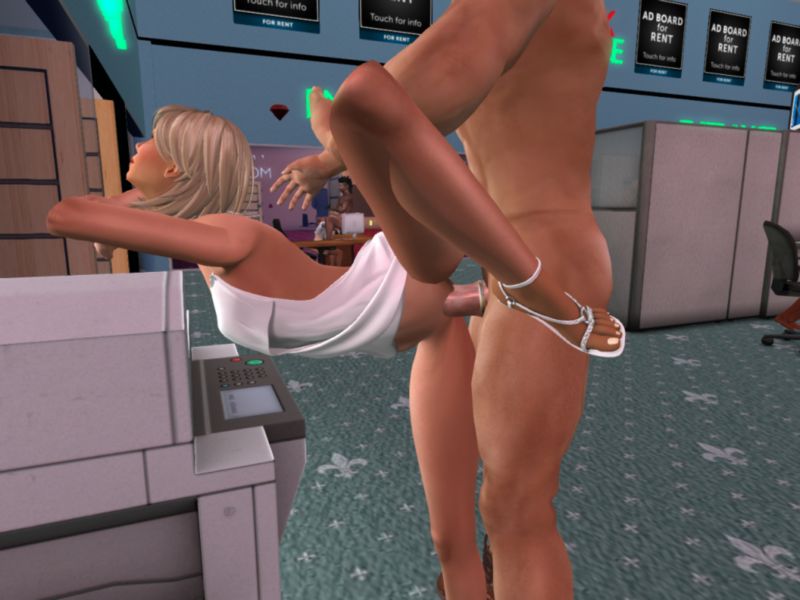 The AFK Factory
I like this one. The design and atmosphere is kinda special. Best part is upstairs actually: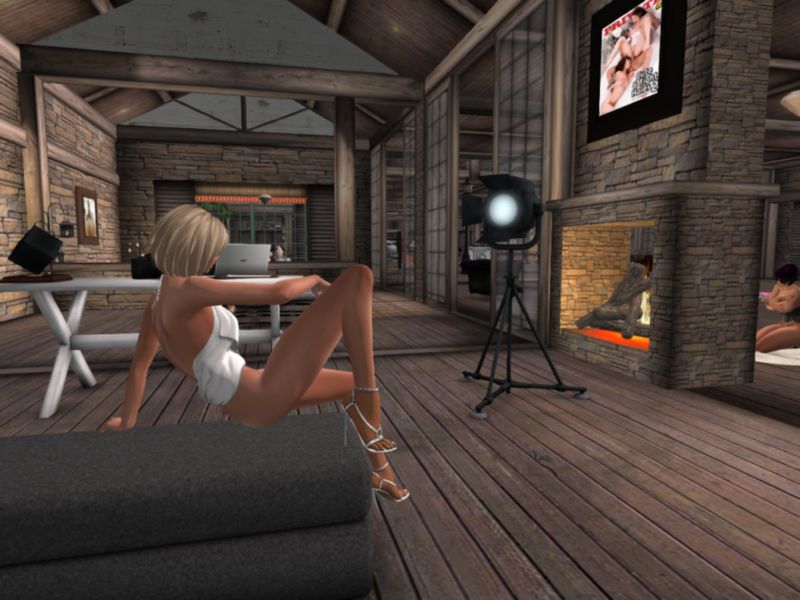 Apartment Number 6
This one looks like a luxury sex hotel. In fact it actually is. There is even a reception desk. When I came there only one of the rooms was not occupied. In each room you find a bed and a pretty body waiting to get fucked.
I think the more popular this will get the less escort girls we will see in Second Life. At first all this AFK stuff seams very bizarre. But thinking about it, it actually does make sense.
Some guys do not want to go through all the motions of chatting up a girl for sex or paying an escort. They just want some pixel porn with a pretty body.
That is exactly what you get at those places.
Another good thing about this hype this: People create new interesting places because of this. The creativity and imagination of people in Second Life will never cease to amaze me.
I had to try this one myself. Thought and done. Joined the group, put the tag on: I am AFK..Fuck me. Yes that is literally what it says. Logging in the tipp jar and waiting.
Did not take long here either. It seams the guys totally loose any inhibition in such a place:
Hey guys! I dare you to try this.
Go to one of those places and just do it and please report about the experience here in the comments section of this post. I am really curious to read about this from your perspective as a "user" of fuck dummies.
Will you do that for me?
Here the directions:
AFK Motel
http://maps.secondlife.com/secondlife/Pinewood%20Island/172/176/40
Le Parc
http://maps.secondlife.com/secondlife/Babiarz/97/167/21
Silience:
http://maps.secondlife.com/secondlife/Catz%20Fantasy/212/49/4002
Fuck House
http://maps.secondlife.com/secondlife/Atlantic%20Shores/29/220/22
Office Sex:
http://maps.secondlife.com/secondlife/Casa%20Del%20Tahwnie/114/224/3898
Fuck Factory:
http://maps.secondlife.com/secondlife/Crevel/96/54/3493
Apartment Number 6:
http://maps.secondlife.com/secondlife//181/227/3313
Chances are you actually find little cute Charleen there too. /me winks…
If you want to know more about 3dxchat, find out here: