Today's post is about what I think are the most popular sex places in Second Life. I did a bit of research using the search facility.
I typed in different adult related keywords such as sex, adult, escort, whore, swinger.
A list of places comes up in "places search" listed by amount of visitors they received in the last 30 days. Some places show up under one keyword but not under another. Hence the rank changes every time you do another search.
I did visit place which come up under different searches in th top ten. My plan was to place advertising as most of these places offer adboards for rent.
All of the places have between 50k and 100k traffic.
I was actually very surprised to find several so-called AFK sex places amongst the most popular places.
Well some girls (and guys) like to leave their avatars on sex furniture, naked, when going away from keyboard. They let anybody play with their pixel-self as they please and expect a little tipp when finished.
To understand how it works, simply read this quote from a notecard from a place called "Sleeping Beauties":
Update Oktober 2018: No longer in the top ten. Still busy though.
Traffic about 35.000.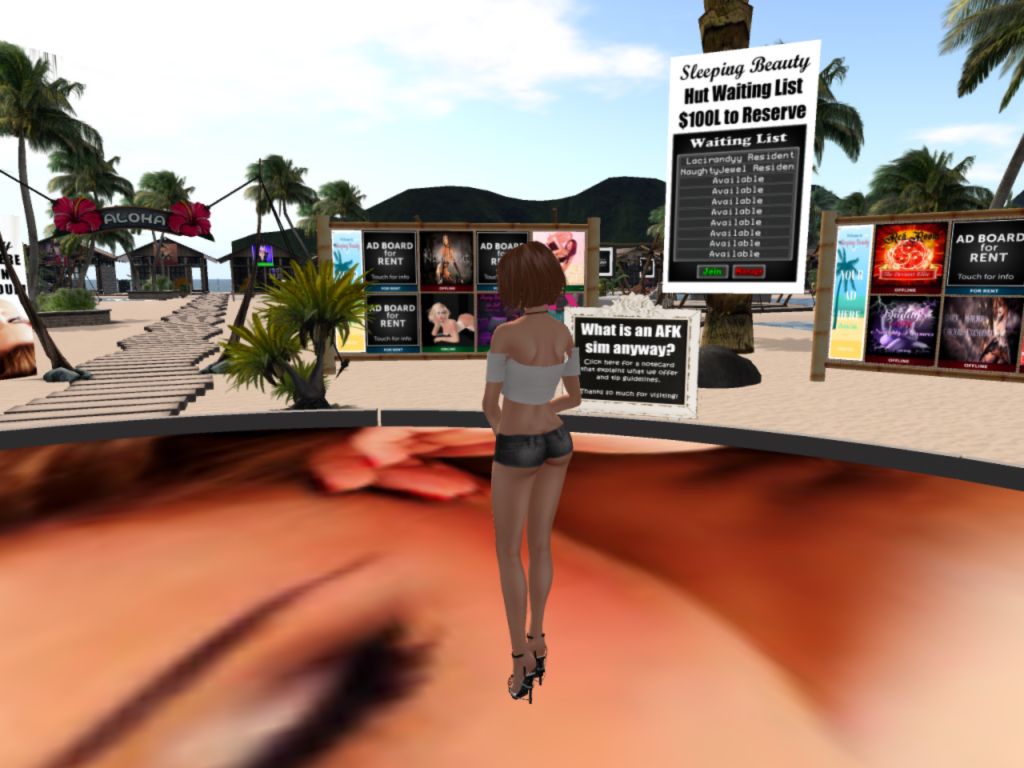 Sleeping Beauty is an AFK (Away From Keyboard) sex Sim that offers rental huts and outside play areas. We are NOT a free sex sim.
You will see an abundance of Beauties in their huts and outside that are available for your pleasure.
Many are AFK (but some are not!). You may use our avi any way you please. Many of us in the huts wear a hud on our heads that once clicked, allows you to move us to any piece of furniture in our room.
All we ask in return is that you tip us. The parcel tier is costly, and we spend many lindens to keep our avi's beautiful for you and our huds up-to-date.
Remember, we are not always AFK. Sometimes we're actually here! If you would like to interact with us in chat while being naughty with our avis, IM us first to see if we're here, and we may just play with you! If we don't answer, then we are most likely sincerely AFK, sorry!
What are acceptable tips? Well, I can't give a clear answer on that as any tip is appreciated. Below is only a guideline that may help:
$50L = A so-so tip, but we really want to buy that hot, new pussy that was just released, so can you give us a bit more??

$100L = You're getting warmer! It's just we want to buy those just-released crotchless panties for our new pussy!

$200L = This is the most typical tip. This gives us a good start on buying the necessities to keep you so satisfied.

$500L = You fucking rock. Seriously, thanks.

$1000L and more = Ohhhh. You must've caught us peeking in and joining you in text to bring you a little more satisfaction!
It started off small and people were kinda laughing at this. Now it became a huge thing.
In fact, whilst I am typing this. My virtual me is sitting in "Apartment Number 6" at the bar. Naked. See what happens. So far nothing.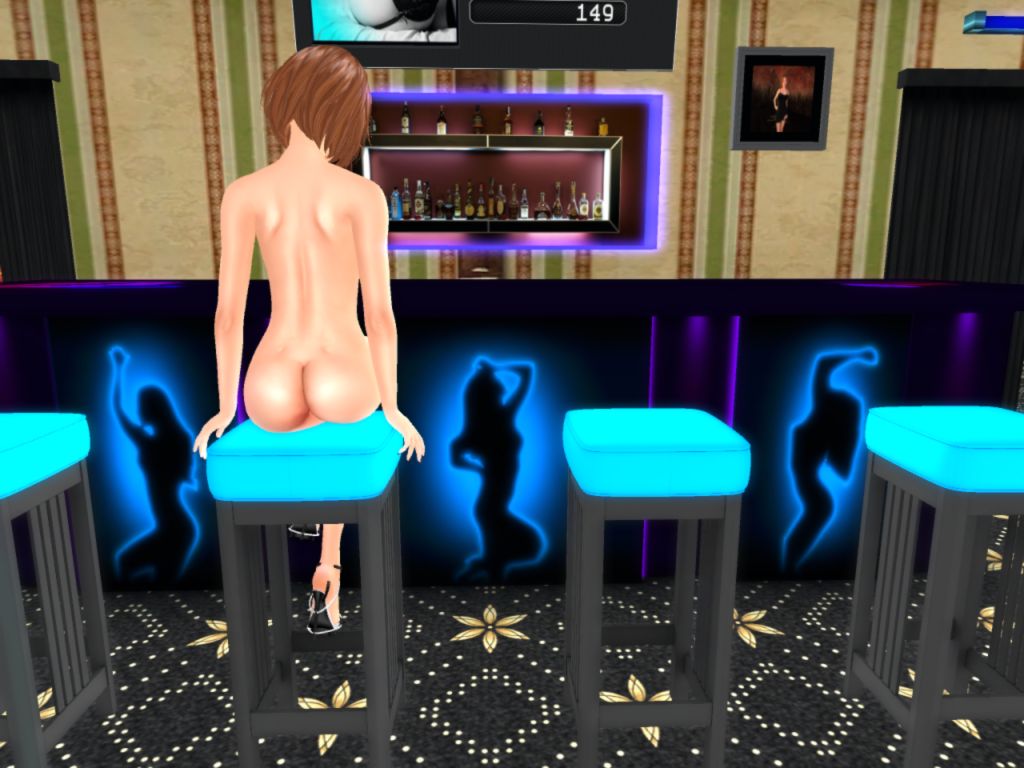 Next is yet another AFK Place:
One guy didn't care at all that I was standing right behind them and watching him fucking one of those pixel dolls.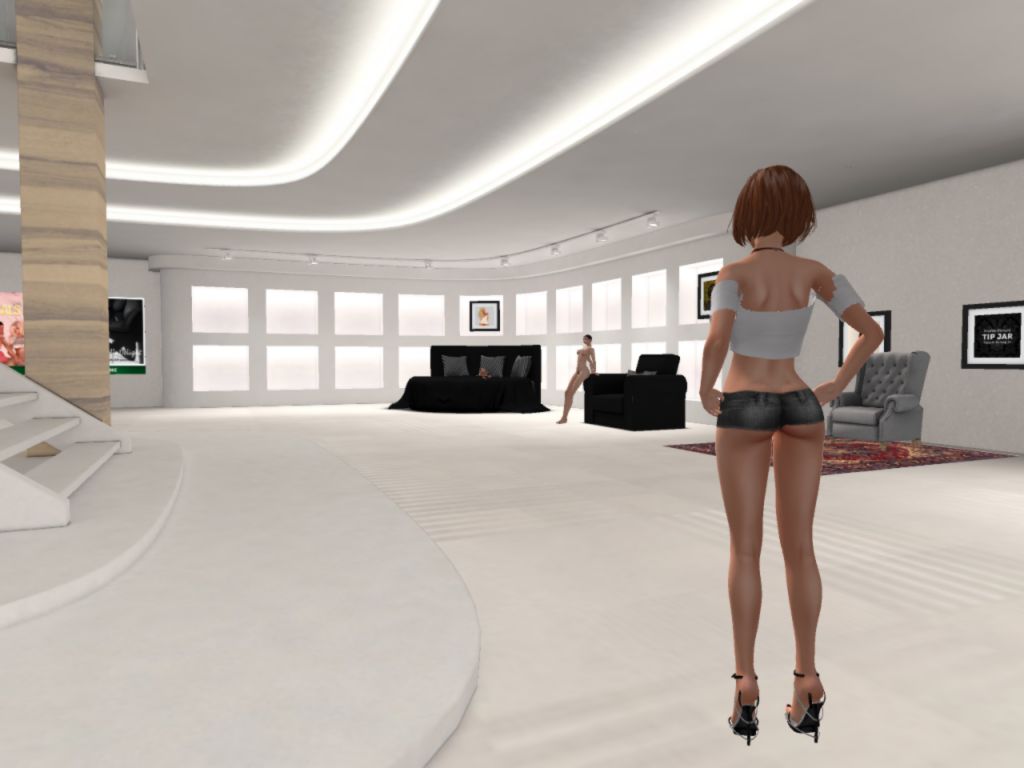 Next. Changing topic:
The name says it all. This is a busy dating place for transgender interested people. Quit classy but laggy as hell.
Fancy a quickie in the bathroom? This one is your place then:
This one is simple and to the point. Enter the bathroom, take a shower and get fucked. Simple as that. I did that too a little later. You will read about it here.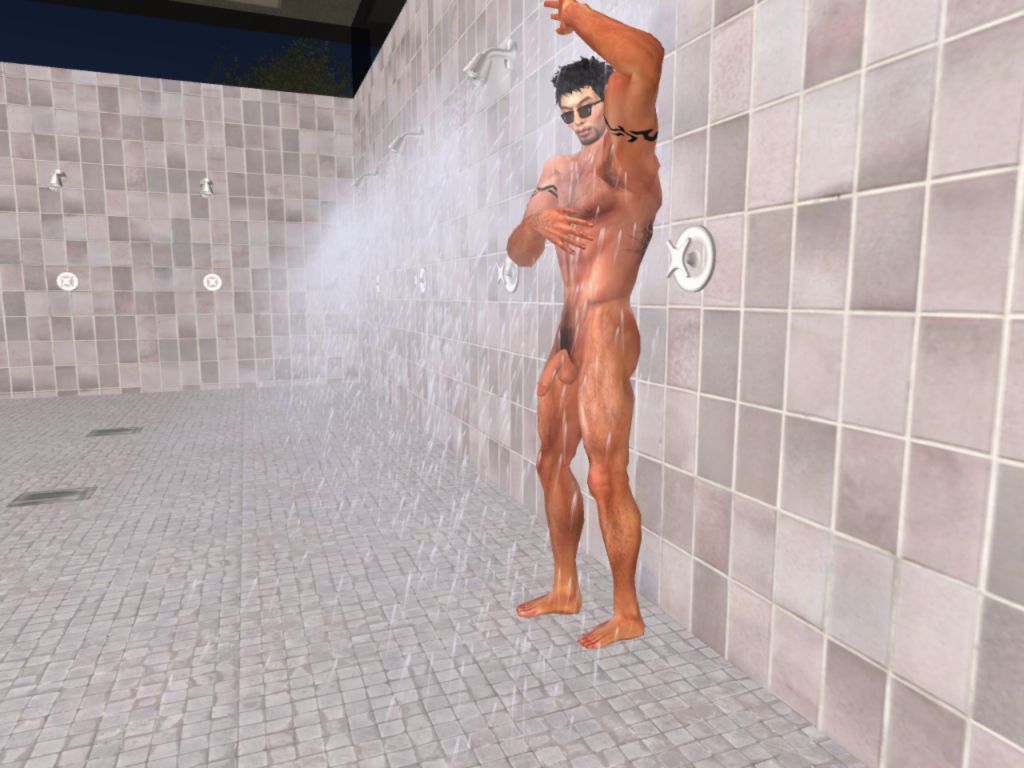 Next: Going to the beach!
Beautiful, busy yet laggy beach place. Unfortunately it doesn't offer any advertising spots. I didn't spend much time there. Nothing to do for me there. Not now, but you will see in another post a little adventure there. /me winks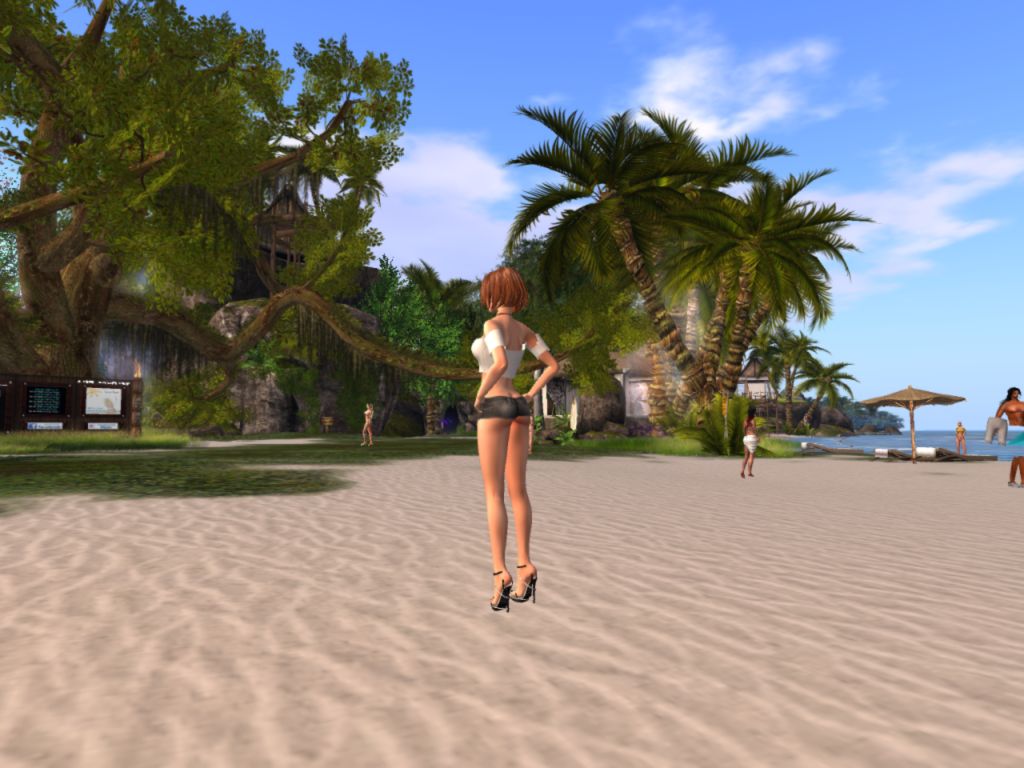 Next. Here comes yet another surprise:
The next one doesn't come as a surprise:
It is a huge freelance escort place. Apart from the obvious, the region offers free skyboxes, a huge freebie shop for all you need to get started as an escort and adboards.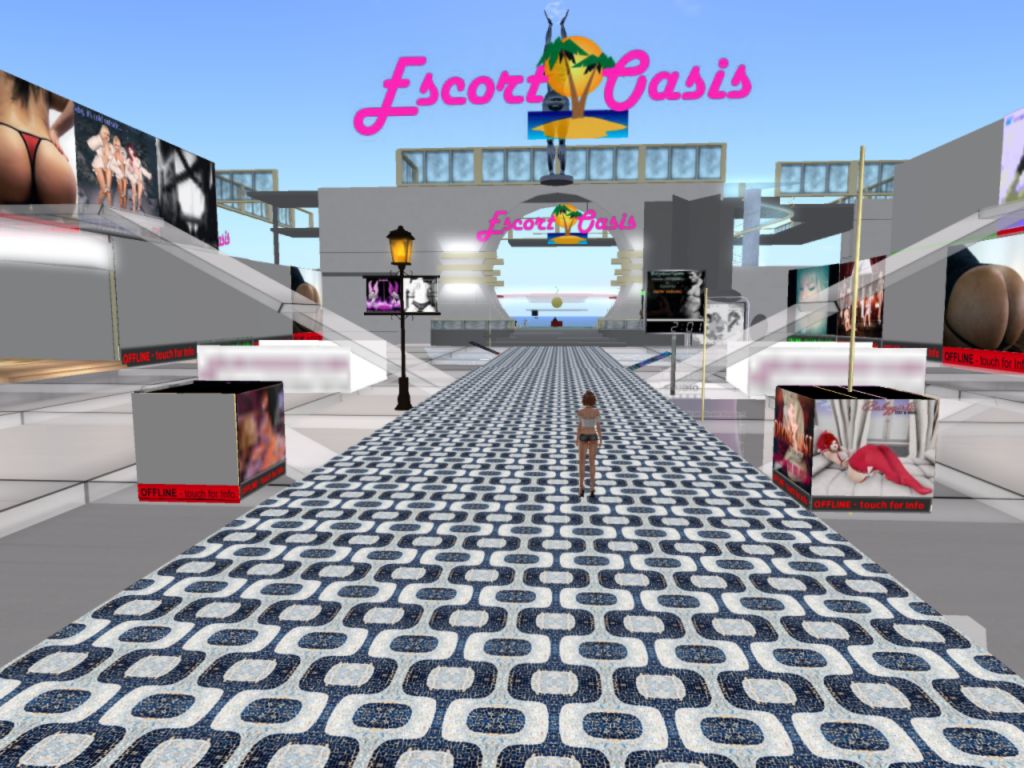 There is even a section for adboards reserved for verified cam girls. Yes cam girls. Escorts who find clients in Second Life to show them the real thing!
This is big business actually. I think the "regular" text based escort stuff is almost history. The real money is made by cam girls and voice girls.
Next might be  a bit creepy to some folks:
Capture and rape games. Yet another very popular fetish in Second Life. I actually like that genre better than other sex fantasies.
But:
There is nothing worse than being on a capture / rape type of place and being asked for sex.
Being asked!
Hello guys, just fucking do it, don't be kind, don't be polite, don't ask for consent. Just do it. That's what a rape role play is all about. I was asked several times for sex. They actually did ask!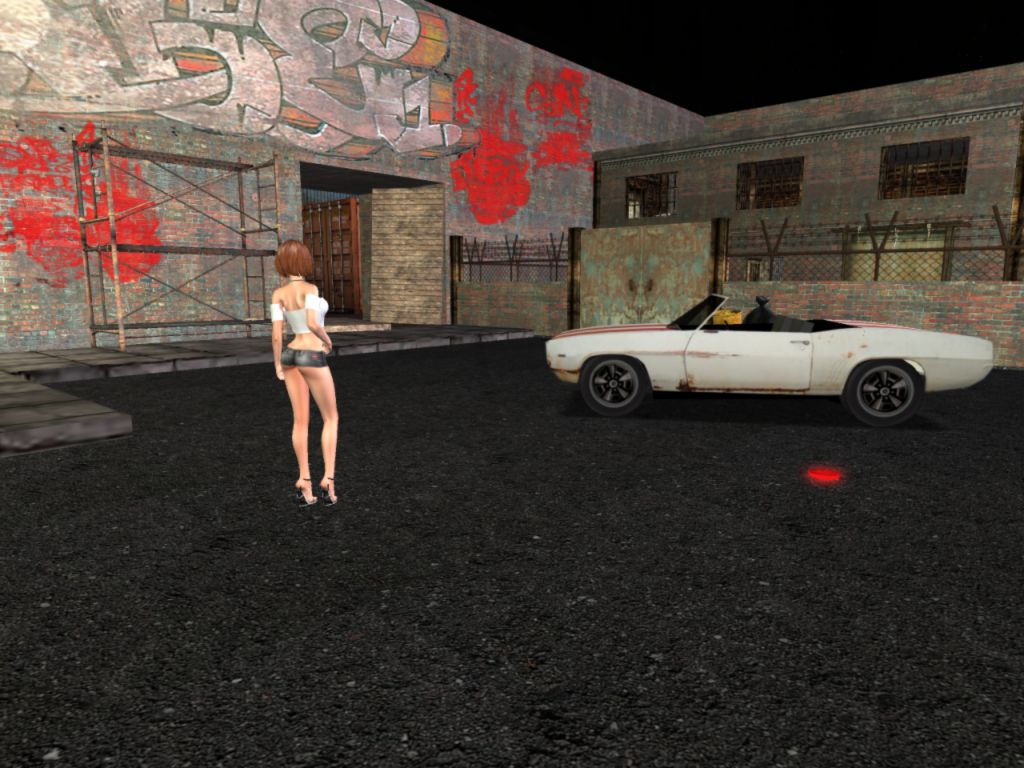 I went to prison.
Not really. But was fun thinking I would. It was kind of arousing to be in that cell and waiting for what was about to happen. Maybe an officer taking advantage and rape me?
Nope.
Nothing happened until I actually invited a friend over to check out the place. Kevin was rather surprised when he arrived. I was laying on the bed in my cell, bound.
I know Kevin fancied me since we met. I also knew he is the shy type.
What I did not know is that this type of situation actually turns him on. He took advantage of me being there, bound, helpless in a prison cell and raped me.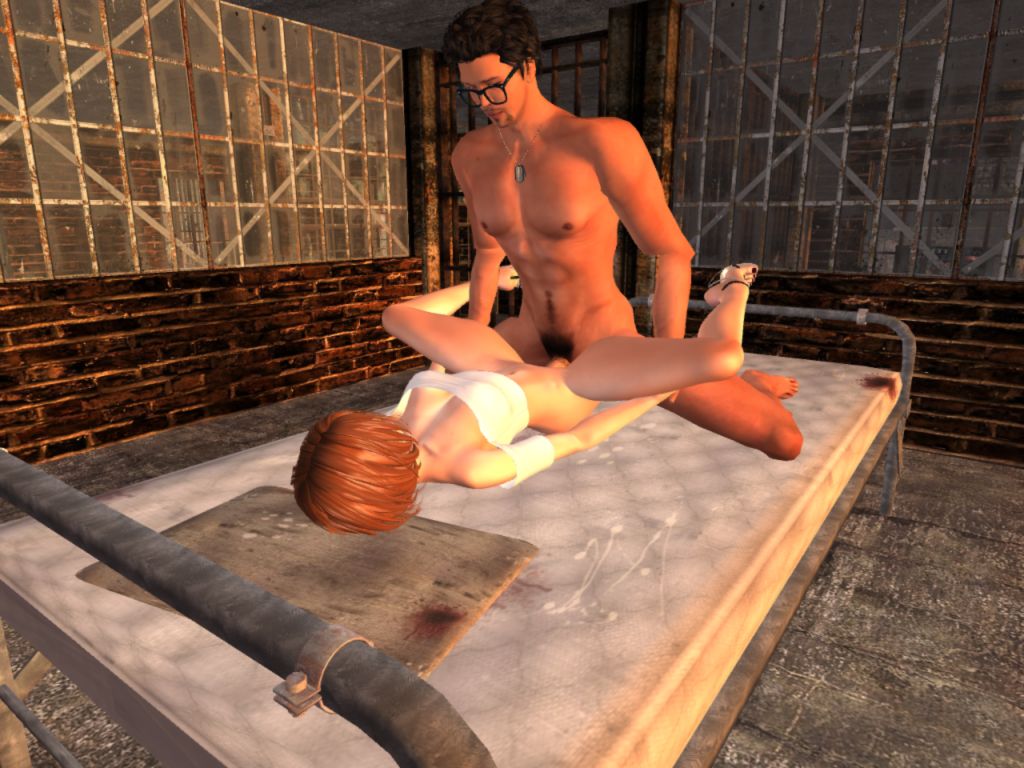 According to him it was the best sex he ever had in Second Life. Maybe he discovered "his thing" with me?
Last but certainly not least:
This place is basically a huge porn cinema with tons of adverts around it.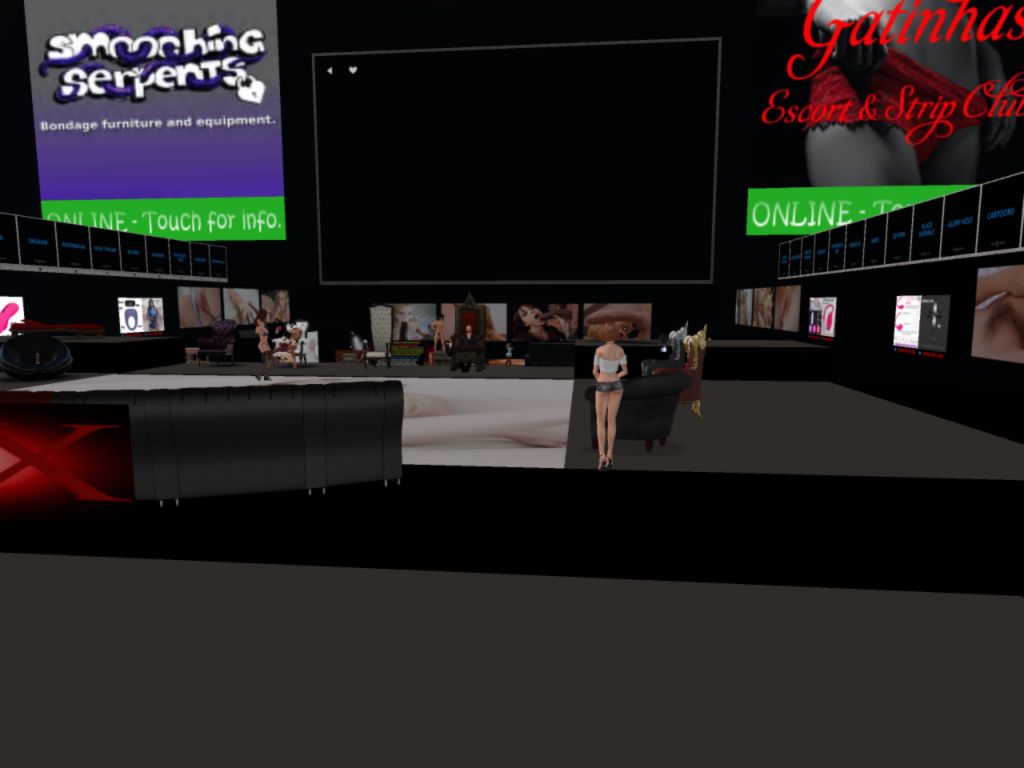 I have no idea why it is that popular. From all the places i visited, this is the one who gets the most traffic. It is the most popular sex related sim in Second Life.
I have no idea why! It is just a huge advertising board with a porn cinema in the middle. I guess most people come here to pick up a date and then go fucking elsewhere.
This one has a bit of a reputation. There are rumours that it is actually a pick up place for ageplay. A place where nowadays the pedophiles look for their prey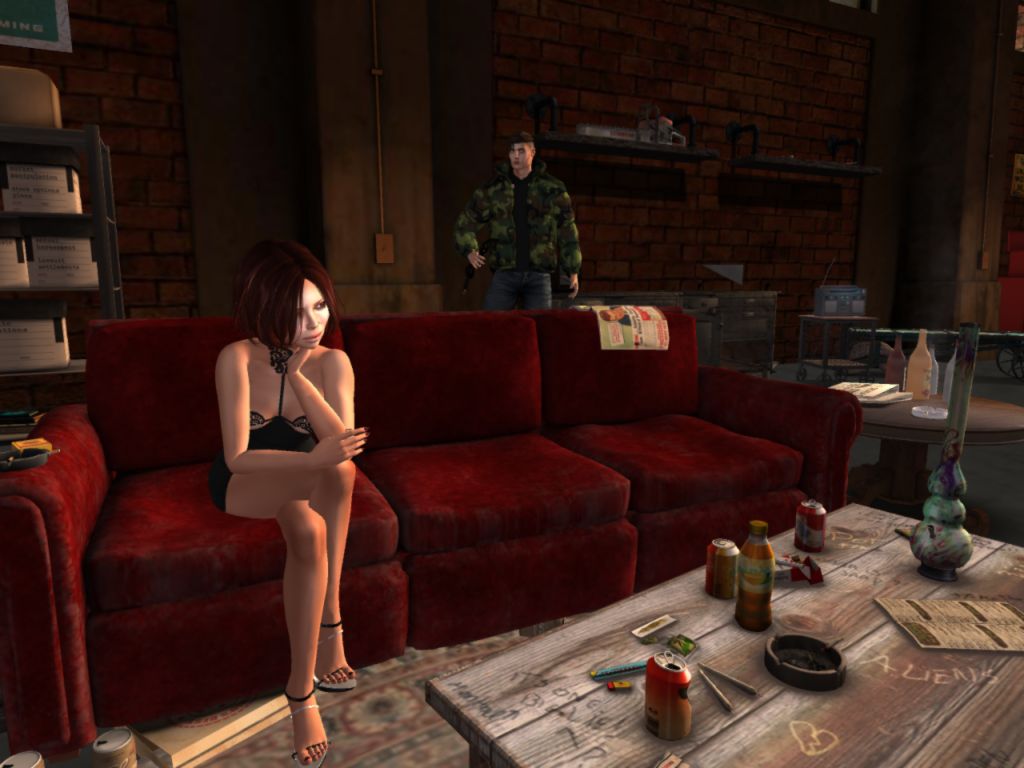 I mean seriously the name does suggests that a bit. Of course I have no idea if that is true.
Maybe that is an idea for one of Caroline's undercover investigations?
When I went there to take some screenshots, there were a lot of people. Really a busy place. However I have not seen a single avatar which could have been considered under legal age.
This is a classic. It is probably the oldest nude and sex beach in Second Life. The design is not a big deal. In fact the buildings are simple prefabs and layout is also very basic. Just like every other standard beach location in Second Life.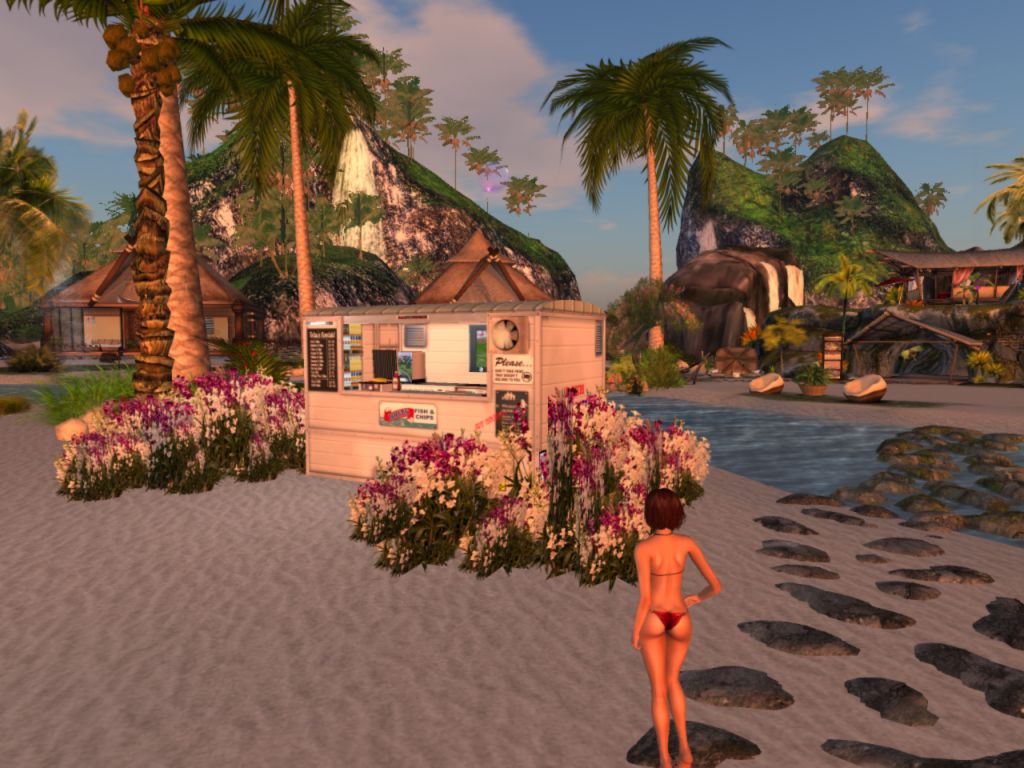 Most of the banter and flirting happens actually at the marketplace, where the landing point is located.
When I was taking the pics, I walked into a guy who was sitting there all alone wanking himself. Good looking guy actually. I could not resist and decided to give him a hand. Literally!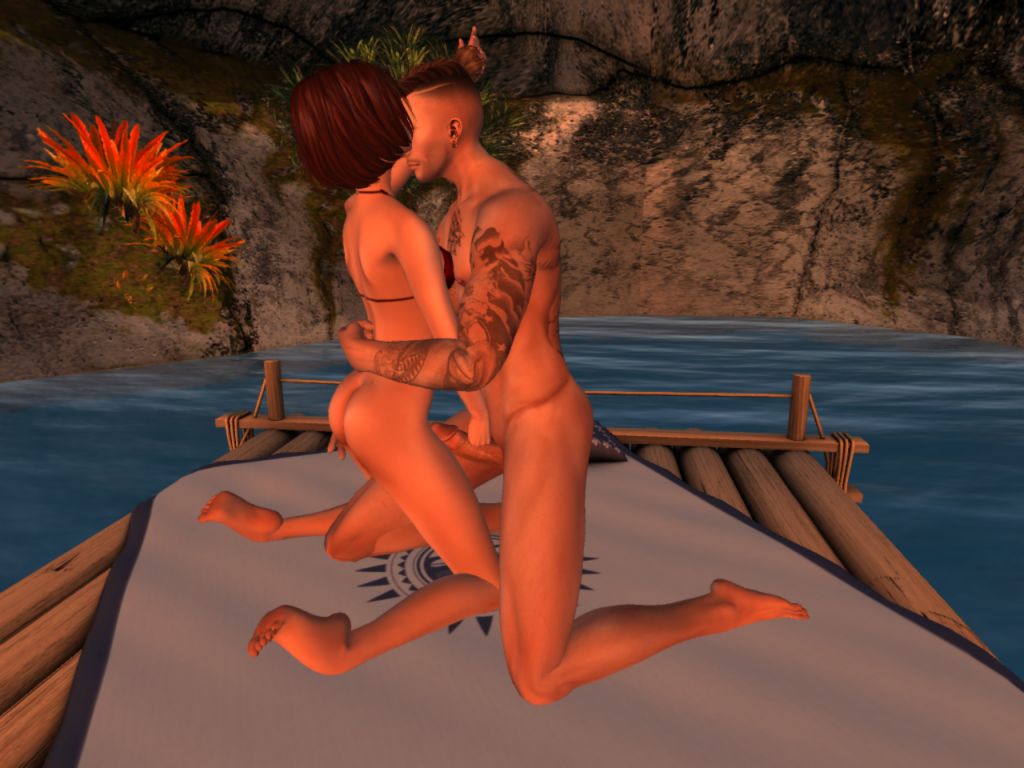 It ended up in quite nice quickie: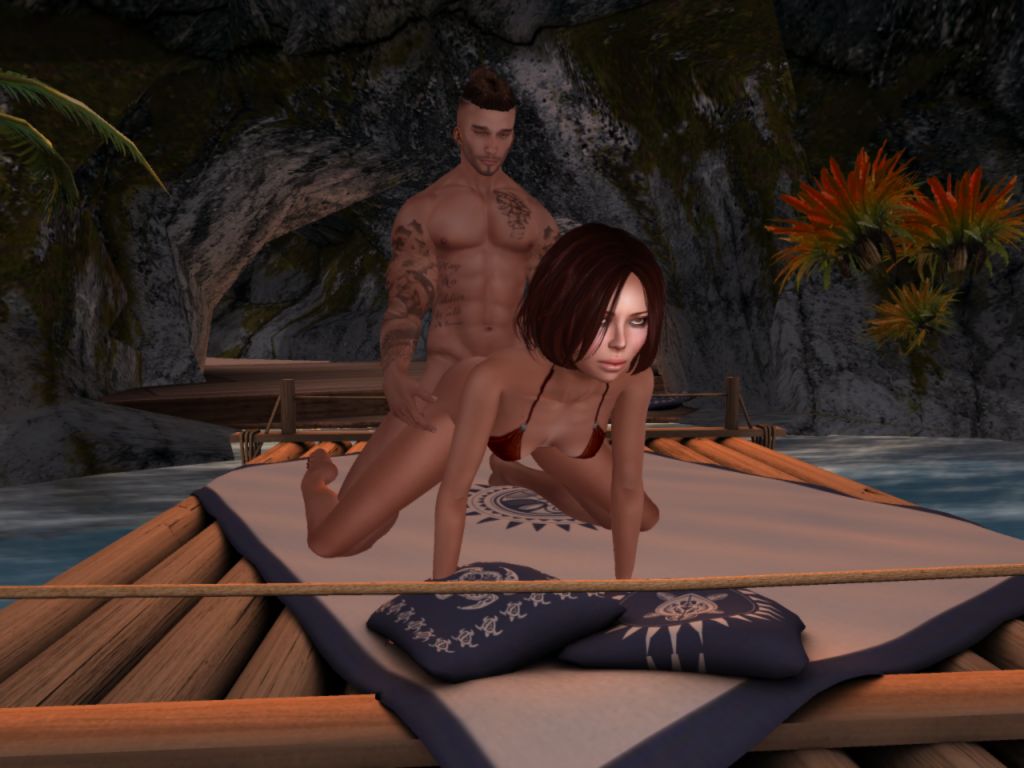 And the winner is: Tohio Idols AFK fuck place. The only sex sim which surpasses the 100k mark.
Our Japanese fellow residents discovered the AFK sex scene and (as usual) exaggerated in building a location.
Hell Japanes designer.  No, not everybody has a gaming computer with a 1000 Gigabeit RAM! Maybe in Japan, but not in the rest of the world.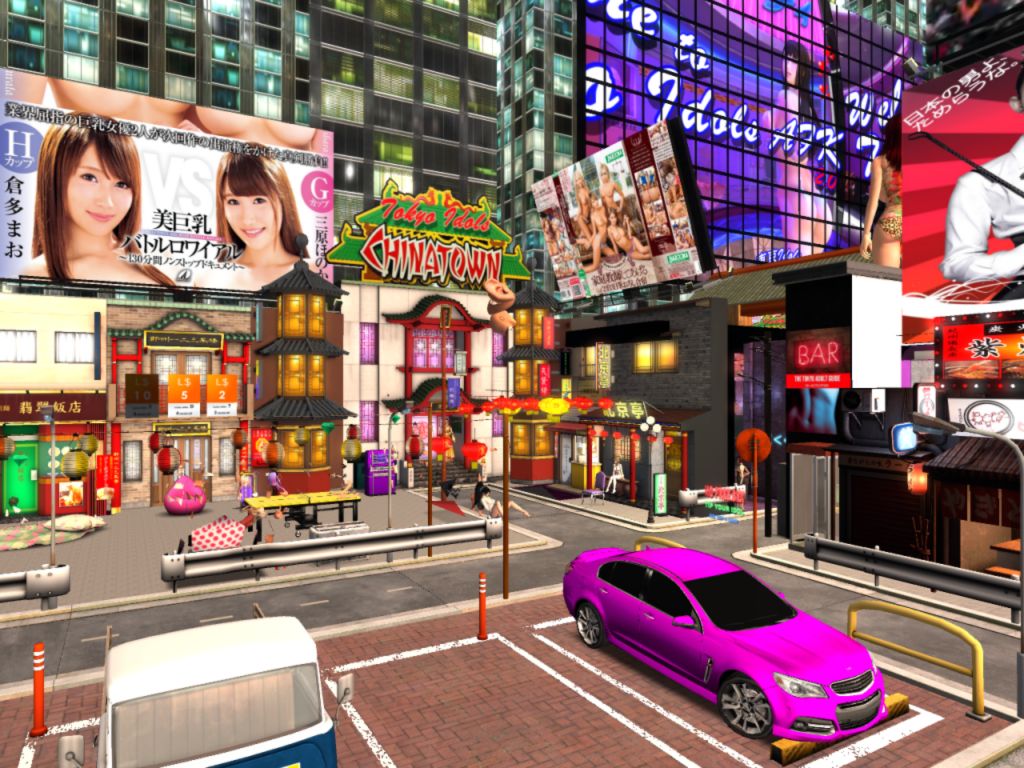 The place consist of a beach area on the ground and several differently themed massive skyboxes. All of them heavily overloaded with scripts, prims, adboards. The lag is terrifying as you can imagine.
Ever thought about fucking in space? Here you can do it. One of those skyboxes is actually a space station.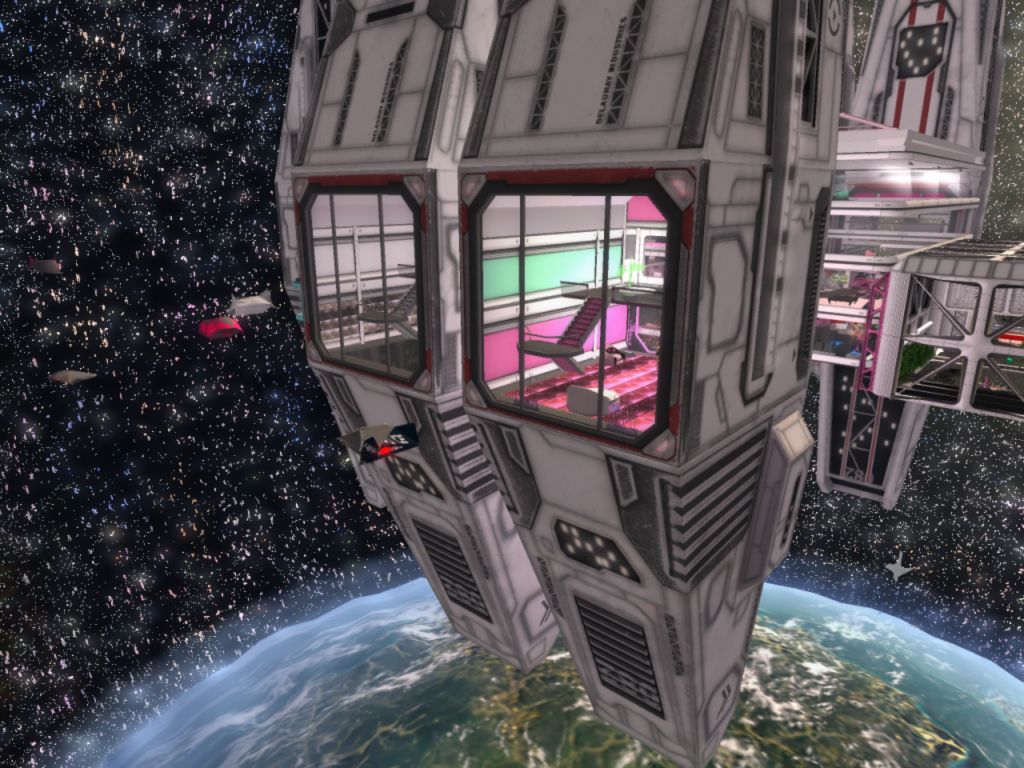 Sex in the streets of Chinatown. Not a problem. Just make sure your graphic settings are set to low. Otherwise moving your ass becomes a serious challenge.
Ok, so that was it for today. Those were the most popular sex locations in Second Life by traffic.
The following destinations used to be on the top 10 list as well, but are no longer available:
H & H Climax City
Update October 2018: This one is gone.
This is the only one, where I found several guys actually doing this. Guess what. I had to try. I wanted to know what it does to me, why this is such a popular thing.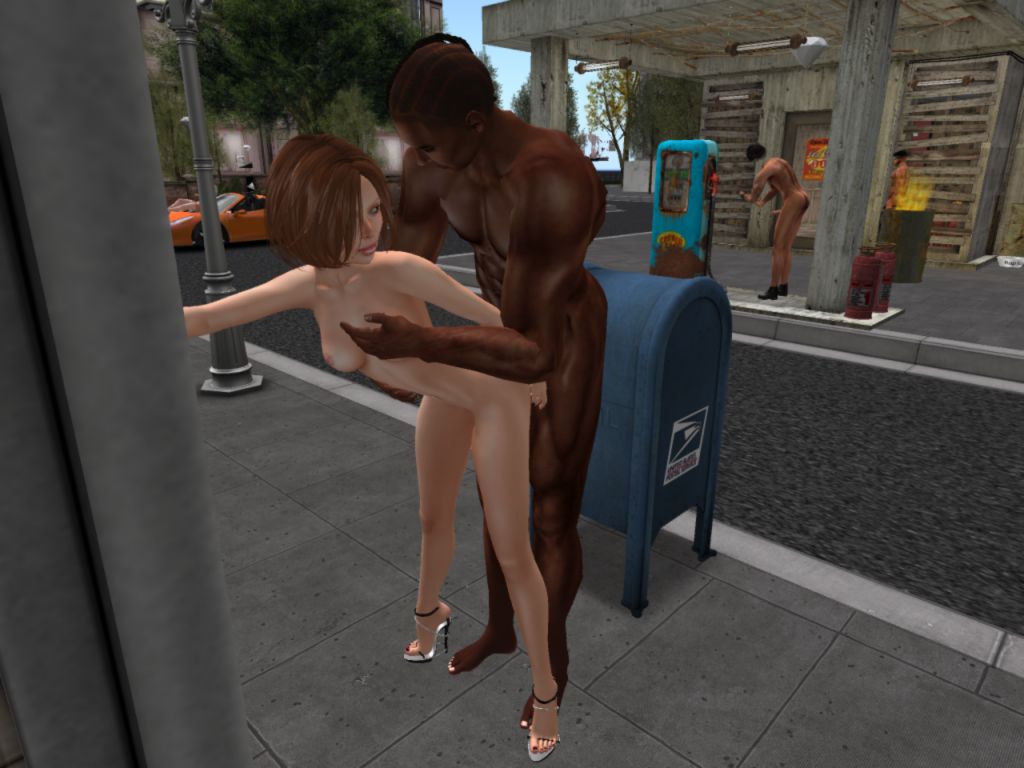 You know what?
It didn't do absolutely anything. There was nothing exciting or arousing about it. The other way around it is actually different.
The idea of sitting on a bed and any time somebody could come in and simply use me for his pleasure is indeed sexy.
Towns of Jasmine – Gor
Update October 2018: Does no longer exist!
Gorean roleplay was huge a couple of years ago. It is role play based on the books from John Norman called the chronicles of Gor.
If you want to know more about that, read Caroline Residents guide to gorean roleplay in Second Life.
The town of Jasmine apparently is a new gor region. Very good traffic indeed. It resembles a town on the river Laurius on Gor. A small town at the boundaries of the "Northern Forests of Gor. I could play a panther girl, could be fun.
I got kicked out by a bot, because I was not wearing the mandatory combat meter. Come on guys just wanted to have a look as a visitor.
Maybe I start playing Gor again. The  place looks interesting and the new meter system could make it all more realistic than it used to be.
Question to you:
Would you please let us know what your favorite sex place in Second Life is?
Please leave a small review of your favorite adult destination with the SLURL in the comments.
Thank you 🙂
Oh, and nothing happened at Apartment Number 6.
Jessica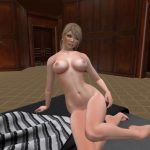 This diary is about the journey of Jessica through Second Life. As Jessica I am a team member of an in-world (in Second Life) company called SLA Media. It is a company which publishes several Second Life related websites (adult rated).