Today I managed to nail somebody down. No, not for sex, for an interview. As announced, I start a series with interviews of actual players of different sex games, for you to see the game from an other players perspective, not only my own (biased) views and experiences.
This might actually help you, to make your mind up about whether or not 3DXChat is for you.
Today I went to a Club in 3DXChat called Frescos. A guy called KurtCastell actually messaged me. He inquired if I am actually a real blogger or if that would be my characters role.
I told him about my blog and asked him if he would have a bit of time for an interview. He took the time to answer a couple of questions I had prepared.
Here the interview:
How long have you been in 3dxhat?
KurtCastell: I have been here since 2014. I was around when the first tops were added.
Caroline: How did you get into it? Or how did you find it?
I was searching for a 3D sex game, were you have more possibilities to operate your char. I found it via Google search and also some banners on websites of other sex games.
Caroline:What is for you the attraction?
KurtCastell: I have control about what happens. It's not just porn and fapping to it. It's like creating an own movie in here. I set up my role and play as the character i choose.
Caroline: So the interactivity as opposed to just passively watch
KurtCastell: Yes, exactly. Its the opposite to watching porn. I respect the people behind their chars. In real porn movies you never know if the girls or gay men are kind of forced to do what they do. In here you cant abuse someone physical and harm them.
Caroline: Well most porn actors are actually paid professionals.
KurtCastell: Most of them are under pressure to do what they are told to. Its only a small glamorous group that really gets profits out of it
Caroline: How do you use 3dxchat? Is it just casual encounters or is there more too it, such as relationships?
KurtCastell: No. no relationships.
Caroline:How do you chat somebody up? Is that actually needed or do you simply ask?
KurtCastell: Mostly I approach them in my role as a model scout and ask them if they have some interest in shooting.
Caroline: Ok, do they know its role-play?
KurtCastell: During the chat I make it clear. Sometimes girls ask me if they can have the screen shots.
Caroline: What level of arousal do you feel when having sex in 3dxchat and how does that compare to watching porn?
KurtCastell: When I meet a good role-player it can be similar compared to the moment when I am with a girl in real life. Some times I am more aroused than in real. There is much more talking to each other in here. I cant remember to talk that much during foreplay and sex in real. The arousal depends on how good one describe their actions in here and then the imagination start …
Caroline: To what extend? Even climax in real?
KurtCastell: When i sleep with a girl in here i masturbate to it. But i don't do it to cum every time
Caroline: Interesting that you call it sleeping with a girl, instead of playing or role playing with her.
KurtCastell: Its more letting my char sleep with a girl in here.
Caroline: But to you it feels like sleeping with her, so it's much more than just a game.
KurtCastell: I still think its a game, but the feeling is much better than watch average porn.
Caroline: Tell me about your best sex experience ever in 3dxchat?
KurtCastell: We used only one pose. It was the standing position from behind. The girl started to describe how she felt when i got closer and closer to her. She described her feelings about it, the smell of her skin, the touch of her skin. Bit by bit the pose was sexy though but the real action happened on my mind. We did only anal and she reminded me of my ex girlfriend. It was not just like: fuck me or "oh so good". She described the whole scenery in very detail. I am not skilled enough to write such a text like she did. It was just incredibly real.
Caroline: How much time do you spend in 3dxchat?
KurtCastell: About 2 or 3 times a week about an hour.
Caroline: Do you use add-ons like a VR viewer or the Vstroker equipment? If yes, does it substantially enhance the experience? If no, why not?
KurtCastell: I had a fleshlight (the orignal) that is used for Vstroker and compared to real flesh it is incredibly close. There is just one thing missing. You don't only touch each other with genitals. You feel the whole body on your skin and just the vagina or butt. The stroker feels incomplete. Better than my hand but still incomplete.
Caroline: and you use it whilst having sex in 3dxchat? Does it substantially increase the experience?
KurtCastell: It does very much indeed. But it feels so good sometimes than at least i cant hold longer than 5 minutes.
Caroline: What about VR Viewer like Oculus Rift?
KurtCastell: Tts too expensive at the moment.
Caroline: Do you take it to the real world, or do you meet people from here in real life? If so how was that experience?
KurtCastell: I don't mix it up. I don't share rl info in here, no meet ups. I think other chats maybe good for that but my understanding of the game is to play it just here.
Caroline: What do you like most about it?
KurtCastell: To interact with real people behind their chars, like in WoW, plus the awesome graphics.
Caroline:Did you play other sex games such as thrixxx chathouse 3d, imvu or the sex regions in Second Life and how does 3dxchat compare to those?
KurtCastell: 3d Sexvilla 2 had a a lot more poses, but creating them took me too much time and the characters there where to plain, too less detailed. 3dxhat is a better package than thrixxx and less expensive.
CarolineResident: You know they released the Chathouse 3d Roulette which is different to Sexvilla?
KurtCastell: Yes i know i tried it too, but the controls of the game aren't too smooth and this kills the mood.
Caroline:What do you not like about 3dxchat? If you could change anything about 3dxchat, what would that be?
KurtCastell: Nonsex movements to fill the gaps between the poses and standard controls for example to slap someone or take someone by the hand. Or a good one would be when you could interact during a sex pose. Example: anal on couch with pulling a dick out and making the girl/boy gap. It could be integrated with an extra control panel within poses.
Caroline: What advise would you give my readers, if they consider trying 3dxchat?
KurtCastell: You should take your time and not quit to quickly when you cant chat up with someone. It always depends on the mood of the current players
Caroline: My last Question, It is known that behind many girls here are actually men in real. Does that bother you or should it bother anybody?
KurtCastell: It shouldn't bother anybody. it depends of the role-player how good he creates a scene between each other. Have you seen the movie "Gamer"? The females are often controlled by men there, the persons behind the girls are still aroused. Maybe because they create their own porn scene
Caroline: Well, it has been very interesting, thank you very much.
Are you playing 3dXChat or Thrixxx and want to be interviewed? Please leave a comment and how to contact you, and I will schedule an appointment as soon as possible!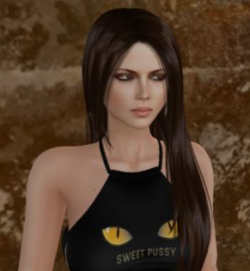 Founder of SLA Media, a company providing adult entertainment websites based on Second Life. Caroline has years of experience in the field of SEO and affiliate marketing. She runs an escort business within Second Life and is well known in the sl adult community.