Caroline also has Sex in Second Life. In fact I am really naughty. The first time (with this avatar) was at Paradies Beach with Tristan, but many encounters with other users followed.
Here I share my experience and write a little guide for noobs about how to have sex in Second Life.
Get the tool!
I am sure you have noticed that your avatar comes without genitals. Hence the first thing you need to do, get yourself a penis/vagina.
Here a piece of advice: Second Life is a visual medium. Hence it does have a certain importance that you choose a penis that actually looks realistic and is in-line with the color of your skin.
There are freebie penises  around, but from what I have seen they look horrible. It is certainly not a turn on to look at an avatar, with a cock that looks like made of wood and is in a totally different color then your skin.
At this point it does make sense to invest a little bit of money to get one that looks decent and realistic. They usually come with a color changer, which allows you to adapt its color to the color of your skin. For the sake of aesthetics, please make that effort!
Contrary to common believe: Size does actually matter, but within reason. You want to make love not an impalment.
Some people find those xcite attachments very sexy. They actually react to clicks on them in open chat. I personally crunch at the thought of a talking penis. I have yet to find out why people buy this stuff. But hey, if it rocks your boat, go ahead get a talking penis.
Get an attractive avatar and get verified
Just like in real live: If you look good you have better chances. Simple as that. With the prefab Linden Avatar you will find it very difficult to get laid. It is important to verify your account as an adult account. Even better is, if you had payment details on your account. You can do both on the Second Life website: www.secondlife.com .
Many Second Life residents have as a personal policy not to do anything sexual  unless the person is at least adult verified. I personally expect payment details on file because a minor will most likely not have access to a credit card whilst verifying an account as adult is rather easy to do.
If you are not into using voice in Second life, it might be a good idea to join a voice verification group. That means you will have to do ONE call to somebody to verify your gender.
For some people it is important what gender the person behind an avatar is, others might not be concerned about that (me for example) as they see sex in Second Life more as a form of role play hence they take the avatar at face value.
On that matter please read this post: Playing the opposite gender in Second Life?
Make an effort
"Wanna fuck?" is not an effort. It actually might get you a similar response from a virtual girl as in real life.  The girls in Second Life do not sit around all day, waiting to please you or for you to fuck them.  Remember there is a real person behind every avatar. Be respectful and don't assume everybody is just for virtual sex in Second Life.
If you fancy someone, chat with the person, try to get to know her a bit and use your imagination to seduce her. Read her profile before you approach her, this might save you embarrassing situations such as approaching a lesbian or somebody with a partner.
Take her out dancing, show her nice places and most importantly converse and wait for the right moment to talk about sex.
An erotic encounter is much nicer if you "click" with that person, otherwise it's not sex but nothing but just boring pixel porn, otherwise referred to as "poseball hoping".
Emoting
This is an important one. Emoting is describing what, and most importantly how you do something. It is written in open chat  or IM using third person. Technically what you do is, you write /me before whatever you want to write. This will format your text slightly different then normal speech in open chat and removes the: after your name.
An emote would look like this:
"Caroline opens her bra and lets it slide down to the floor, smiling suggestively and says: "you like what you see?"
You get the idea? It's basically written role play. This gives an erotic encounter a completely different quality as opposed to just looking at two avatars playing animations. The entire encounter is basically a combination of both: animations and emotes.
Please, do yourself a favour and don't do what we call "thought emotes".
We had an interesting discussion about emoting here: Is emoting in sex play overrated?
The animations
There are several ways to get those animations.
First of all there is furniture available that has build-in menus for sex animations. You can buy this furniture and rez it in your home if you have one. If you don't have your own land/home yet, you can use furniture that is provided at many adult places.
Make sure you know some of those locations before you start chatting up a girl. Ideally you know some places with a nice erotic or romantic atmosphere – and no! A Furniture shop does not fall into that category. Travel around a bit and landmark places you like.
The second possibility is so-called sex huds. Those are huds that you attach to your screen and whenever you click on it, poseballs rez in front of you.  Those have the advantage that you can add animations to them and you do not depend on furniture anymore. However they only work on land where the owner allows rezing.
There are plenty of such huds availably for all kind of taste and preferences. Some basic ones you can get for free, the more sophisticated ones cost something between 2000 and 5.000 Lindens Dollar.
There are also some huds available which play entire scenes with very smooth transitions between animations. You can either play the entire set of animations automatically having your hands free for typing or whatever you want to do with them, or you can individually paly the animations in the order of your preference. In both cases the transitions look smooth and realistic, contributing to a much more "real" experience. Once you have used a hud like this, you will probably never go back to the regular huds.
I can highly recommend the following:
Seduction from AnimAlive:
https://marketplace.secondlife.com/p/Seduction-FULL-Scene-Victory-now-40-minutes-sequence-complete-seamless-scene-romantic-gift-HUD-and-rug/1502827
Tender Love from Kizmet Kidd
https://marketplace.secondlife.com/p/TenderLove-500-Owner-copy/1745726
Some basic sex huds you should be able to get for free on marketplace. A word of caution however: If you want to impress the lady, if she is an experienced Second Life resident freebies won't do it,  unless you compensate with really good, detailed and imaginative emotes!
Respect limits
Not everyone wants to use voice or webcam. If she doesn't want to, respect it. The same goes for sexual preferences. If she is not into BDSM or whatever you might have in mind, don't be pushy. Being pushy can get easily understood as "sexual harassment" which gets you very fast on ban lists and if reported you might even get kicked out of Second Life completely.
NO, just means NO. End of story.
Deal with rejection in a mature way. It is childish to start insulting or lecturing a person who simple does not want to have sex with you. Call it a day and try elsewhere (or improve your skills and looks).
Real life activities during virtual sex
It is important to understand, that not everybody who indulges into a sex scene in Second Life is seeking satisfaction in Real Life. Many simply enjoy the erotic role play and immersion. Germans call that "Kopfkino". If you are with somebody like that, avoid comments about what you do in Real Life.  Statements like "I wank myself faster now in real life" will kill it for your partner if he/she only role plays sex. Make sure you both are on the same planet in that sense.
However, there are many people which masturbate whilst having virtual sex. That's fine, nothing wrong with that. For those people I have a suggestion: Try to match reality with virtual reality. What I mean by that is, adapt your rhythm to what you see on the screen and only erect your virtual parts if it actually happens in real and so on. It gives a bit more the feeling of "being there" and doing it with your partner, compared to just wank over pixel porn.
Try, it does make a huge difference!
Mood killer
Here a list that kills it for me at least:
Software crash: If that happens and your partner is not in the mood anymore, respect that and try another day.
Overusing the menu: Give it time for role play to develop; it does kill the mood if you flick around the menu as if you want to win a prize for "who gets through the menu first"
Sending cock pics: Yes, I know you are proud of him, but guess what: I don't care and I am not interested to see him. In fact I am not interested in any real pictures of you. Keep your pics to yourself unless she asks for it.
Inappropriate locations: Did I mention the furniture shops?
AAAAAHHs and OOOOOOOOHs in chat. Come on you can do better than that.
Sudden change of location. Finish it were you started.
This should give you an idea, what's required. Get it right and have fun. If you need advice or practice feel free to contact me In-World. I give individual affordable classes on virtual sex and yes, that includes sexual contact with me :-). Learning by doing so to speak (4.000 L$)
In-World User Name: carolinestravels.
Avatar Name: Caroline Resident
Related articles:
Having Sex in Second Life
Article about the technicalities of having sex in Second Life
Caroline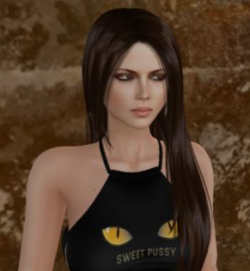 Founder of SLA Media, a company providing adult entertainment websites based on Second Life. Caroline has years of experience in the field of SEO and affiliate marketing. She runs an escort business within Second Life and is well known in the sl adult community.