Hi, Jessica, it's been a while how have you been?
That's the IM I received out of the blue from my friend Basilisc. You know the guy I had that sex date with at the Aislin at Cairn Howff Hotel. At another occasion I "met him briefly" in the street for a quick fuck.
(Btw: Whilst writing this blogpost I am getting fucked at the AFK Motel, I leave my body there when writing. I think that is funny.)
Fucked in the AFK Motel in Second Life
Yes. It has been a while.
At that moment I just finished upgrading my looks. I got myself a nice new skin and longer hair. Makes me look somewhat younger and prettier. I want to look at least similar to my counter ego in 3dxchat.
Here is the new me in Second Life:
That's me in 3DXChat:
I invited Basilisc over to that sandbox where I was working on my avatar. I wanted his opinion.
He did  like it. Me standing naked in my new looks must have turned him on. Can't blame him. I think I am very sexy now.
What do you think?
He said: "Didn't we look at the Elysiuam Hotel last tim? Do you have time for that now?
A quite direct approach and that's how I like it. Off we went to the Elysium Luxury Suites.
(Btw: The guy at the AFK Hotel is really into me, he must be cuming soon).
The Elysium Luxury Suites is not free. You have to pay for the time you use the rooms. It's not expensive though and you have a choice of about 20 different themed rooms. From gym , roman bath to hospital.
We took the oriental room.
(Btw: He did cum. left without leaving a tip. Tight bastard).
The room was really nice, a bit outdated maybe. I think it wasn't even mesh. Very spacious and lots of different sex furniture, even a whirl pool.
He got undressed. When he was naked I realized he already has an erection, he must be very horny today. Or he really desired me. Or both.
We did it right there on the floor. Not much time for foreplay, he really needed it I assume. After a bit of a blowjob I was hot and aroused too.
Jessica: /me watches him getting undressed, looking at his cock realising he is already hard: "Hmmm you must be very excited already",

Basilisc: yes …. want to taste 😉

Jessica: /me take his cock in her mouth , firmly enclosing it with her wet lips then eagerly starts sucking on it.

Basilisc: /me feels his cock bathed by Jessica's eager lips and tongue.
Jessica: hmmmm yes make me wanting it in me. (hard in RL?).
Basilisc: (yes)

Basilisc  looks up at Jessica's firm body as she lowers herself onto his cock.
Jessica  lets it slide in her body slowly at first moans as she feels him penezrating he then starts riding up and down.

Ride him

Jessica: fuck yes so sexy I want to make you cum.

Basilisc engulfed in Jessica's tight pussy .. as it enfolds his cock. Rolls over and plunges into her … with long, deep thrusts.

Jessica moans out loud as he strokes into her again, deep and hard. Watches his cock going and  out her body, feels possessed, breathes faster.

Getting fucked hard

Jessica: yes, please take me hard an fast.
Basilisc fucking Jessica faster now … deep in her pussy

Jessica shivers as she feels her climax approaching soon. Shouts "fuck yes!"

Basilisc: /me fucks Jessica faster and faster … possessing her body.
A little later:
Jessica grinding on him feeling his cock everywhere inside.
Basilisc driving into her pussy from behind … forcing her to the floor.

Jessica: oh god I am almost there fuck me harder, fast. yeeees, omg, cumiiiiing. "Cum in me fill me (tell me when you cum).

Basilis me spurts streams of hot cum deep into Jessica's cunt.
Basilisc: Oh man ….

Getting him to cum

Jessica: /me smiles as she feels his load filling her pussy.
Basilisc: Oh that was great …. thanks …

Jessica: 😉
Basilisc: (RL too. Did you cum?)
Jessica: (yeah).
The rental time of the room was almost finished, so we left shortly after.
A hot uncomplicated fuck. Next time I have to ask him if he wants to meet me in 3DXChat too. Would be great fun.
Do you know a cool Hotel in Second Life we could test together?
Then please leave  a brief description in the comments. If you leave your user name I will get in touch with you to arrange a meeting.
It's going to be fun 😉
(Btw: Whilst editing this blogpost, I got somebody else fucking me, hope this one leaves a tip).
Jessica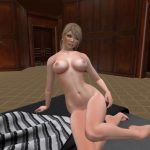 This diary is about the journey of Jessica through Second Life. As Jessica I am a team member of an in-world (in Second Life) company called SLA Media. It is a company which publishes several Second Life related websites (adult rated).