The short answer to this question is: Yes, there is! Before I go into details, I would like to point something out. This post will be read by:
Psychologists and people interested in Psychology
Lawyers specializing on the topic
Second Life Residents
Linden Lab staff including Ebbe Altberg and Philip Rosedale
The FBI
How do I know? Very simple: I posted a link to this, in several related forums, on related Subreddits and on my twitter account which is followed by Linden Lab staff.
The reason I did that is: I am by no means a psychologist, nor am I a lawyer. I am a blogger. My observations and research into the topic let to more questions than answers. In fact it seems to be very complex topic and I hope to get some qualified answers in the comment section from people who know about this stuff.
If you are one of the above. Please comment!
Definitions
To start with lets define what we are talking about here:
Pedophilia
Pedophilia or paedophilia is a psychiatric disorder in which an adult or older adolescent experiences a primary or exclusive sexual attraction to prepubescent children.
Child Pornography
Child Pornography is a criminal offense and is defined as any visual depiction involving the use of a minor, or one appearing to be a minor, engaging in sexually explicit conduct.
Child pornography is illegal because it is evidence of a crime and harms all children. Some people refer to child pornography images as "crime scene photographs" to make the point that taking such pictures and behaving sexually with a child are crimes.
Ephebophilia
Ephebophilia is the primary or exclusive adult sexual interest in mid-to-late adolescents, generally ages 15 to 19. Ephebophilia is not everywhere considered a criminal offense and some experts even fight over whether or not it is actually a mental disorder
Ageplay
Ageplay or age-play is a form of role-playing in which an individual acts or treats another as if they were a different age, sexually or non-sexually. Age-play is role-playing between adults, and involves consent from all parties. Portraying any age can be the goal of age-play, from babies, to the elderly.
I actually found an in-depth article about the legalities here: Child Pornography and International Law
https://www.hg.org/child-pornography.html
Examples of Age-play in Second Life?
I have Screen-shots taken in an adult rated strip club in Second Life. Those are not in-world photos but actual screen-shots, including the name tabs of the avatars. I have not taken those myself. A reader was sending them to me.
For obvious reasons I can not post them here.
Those girls not only dance and strip there, they offer escort services. Don't get me wrong, in my not so humble opinion, there is nothing wrong with strip clubs or escort services. Some people might have different views on that but hey everybody is entitled to his own opinion and moral standards. In fact, I even sponsor a new strip club in Second Life (with a strict 18+ policy)
What is disturbing about those images is: The avatars are not even close to what anyone would call an 18+ Teenager.
@EbbeAltberg
You want to have them? Lets meet In-World and have a chat about this. I guess you know where to find my in-world office. 🙂
Is Age Play Allowed in Second Life?
The First question that springs to mind is: Does Linden Lab allow to a certain extend what is commonly referred to as "Age Play". The answer is: It depends!
Linden Labs Policy
Under our Community Standards policy, real-life images, avatar portrayals, and other depictions of sexual or lewd acts involving or appearing to involve children or minors are not allowed within Second Life. When detected, individuals and groups promoting or providing such content and activities will be subject to sanctions, which may include termination of accounts, closure of groups, removal of content, and loss of land or access to land.

There are three key aspects involved in these materials or acts that are in breach of the Community Standards:

Participation by Residents in lewd or sexual acts in which one or more of the avatars appears to represent minors (or the depiction of such acts in images, video, textures, or text) is a violation of the Community Standards. Promoting or catering to such behavior or representations violates our Community Standards.

For instance, the placement of avatars appearing to represent minors in proximity to "sex beds" or other sexualized graphics, objects, or scripts would violate our Community Standards, as would the placement of sexualized "pose balls" or other content in areas depicting playgrounds or children's spaces.

The graphic depiction of children in a sexual or lewd manner violates our Community Standards.

Linden Lab reserves the right to immediately terminate the accounts of Residents who violate these standards.
http://wiki.secondlife.com/wiki/Linden_Lab_Official:Clarification_of_policy_disallowing_ageplay
Their stance on is pretty clear: No sexual age-play allowed involving minors. Period. They go to the extreme of prohibiting child avatars close to objects with sex scripts in it. Non-sexual age-play is however allowed.
I am not sure about whether or not they actually police this. Do they even have to? It is my understanding, that they only act on the subject matter if and when they receive abuse reports from Second life Residents.
Here another interesting article
http://virtuallyblind.com/2008/05/23/ageplay-ban-clarified/
The Legal Aspect
As Residents of Second Life we are subject to US jurisdiction AND the jurisdiction of the country we are living in, when it comes to what we are allowed to do in Second Life and what not. The legal side in the US is pretty clear:
Sec. 1466A. Obscene visual representations of the sexual abuse of children
(a) IN GENERAL- Any person who, in a circumstance described in subsection (d), knowingly produces, distributes, receives, or possesses with intent to distribute, a visual depiction of any kind, including a drawing, cartoon, sculpture, or painting, that–
(1)(A) depicts a minor engaging in sexually explicit conduct; and
(B) is obscene; or
(2)(A) depicts an image that is, or appears to be, of a minor engaging in graphic bestiality, sadistic or masochistic abuse, or sexual intercourse, including genital-genital, oral-genital, anal-genital, or oral-anal, whether between persons of the same or opposite sex; and
(B) lacks serious literary, artistic, political, or scientific value;
or attempts or conspires to do so, shall be subject to the penalties provided in section 2252A(b)(1), including the penalties provided for cases involving a prior conviction.
The Psychological Aspect
Older Residents (Certainly the Lindens do) remember this big scandal the went through the press in 2007, talking about child pornography in Second Life. At the time there where actually groups for age-play in Second Life. I found an article in the Alphaville herald featuring an interview with a manager of an age-play group.
Interesting read indeed:
http://alphavilleherald.com/2007/01/ageplay_in_seco.html
The part which made me think about the topic from another perspective was this comment :
Emily Semaphore: Yes. I was molested for years by a family member. For me, role-playing in a sexual manner is healing because it allows me to RECLAIM my sexuality. Everything I am involved in is consensual, even if it appears not to be (i.e. consensual non-consensuality). It is as though I am placing myself back into that mindset and I can say 'yes', and I can say 'no', and I can say 'fuck you mister". I can also work thru issues where, and this is a deep pain for sexual assault survivors, my body responded favorably to the abuse, and tell myself I am indeed not a bad person for my biology having responded to what was done to me when I was a child. Having discussed this at length with lots of other folks, I think many people are able to use sexual age-play to a very healing end. Unfortunately, most people have a very hard time understanding this. It's very nuanced.
Here a Couple of Questions for You:
@Staff from LindenLab:
Do you guys actually actively check for this on the grid?
@Laywers reading this:
Does Linden Lab, the company behind Second Life, have an obligation to proactively eliminate such content or is acting upon abuse reports sufficient?
@Second Life Residents
Do you feel the Lindens are doing enough to prevent such content or behavior ? If you see something that obviously violates the TOS in this respect, do you actually report it? What would you tolerate and what not – in another words were do you personally draw the line?
@Psychologists reading this
Could this kind of role play be a valid part of a therapy for either victims or pedophiles?
Or what about this thought:
Let's say somebody is pedophile. What effect would living out his fantasies in a virtual environment? Could this prevent this person from actually molesting children in the real world or is the opposite to be expected?
Please discuss!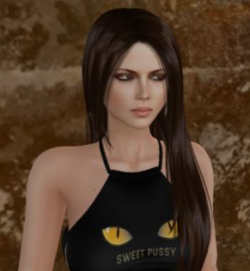 Founder of SLA Media, a company providing adult entertainment websites based on Second Life. Caroline has years of experience in the field of SEO and affiliate marketing. She runs an escort business within Second Life and is well known in the sl adult community.