In my retro-perspective post I actually announced that in 2017 I will be posting a lot less about my activities as a call girl in Second Life. The main reason being is that I have embarked on another business. I am promoting Second Life porn with a tube site similar to naughty machinima. This is actually a serious business. It requires dedication, time and hard work to get it going. It has also a lot bigger earning potential than working as a call girl.
However I will still be doing a bit of escorting. Not the same way I did 2016 though. There are two type of clients I will still serve.
Members of my Group "Carolines Lovers"
The way this works is very simple. A client pays a flat fee of 10.000 L$ and can book me for sex services, to go dancing or just for some company as often as he wants. Subject to availability of course. There are no more fees for time or bookings. I do however appreciate tips of course.
I entertain my "lovers" either at my home, their own place or anywhere they actually fancy. The advantage of using my place is that I can use my own sex huds which do feature some of the best animations available in Second Life.
This concept has one very big advantage: The average client will be most likely of a high standing. Not everybody is able to easily part with 10.000 L$. The advantage for the client is: The dates are prepaid and its totally up to him what tip or gift he gives me in addition to the flat fee. Actually I prefer the later. Buying me a gift requires more than just leaving some money. It requires some thought, some imagination and requires to make an effort to actually find out what I like.
All of my "lovers" will be regulars. This gives me a chance to actually get to know them. Their likes and dislikes, preferences, fantasies and so forth. It will make the whole experience for them much more intimate and satisfying and gives it a sort of girl friend feel to it. I will actually stop calling them "clients". I call them "my lovers" or "my affairs".
A win-win!
I have actually some "lovers" like that. My favorite one is the guy my regular readers know as the mystery man, the one who shall not be named. The reason for such secrecy is quite simple: He is married in SL. It is fair comment to assume his wifey would not be very pleased if she finds out he is seeing me on a regular basis. Hence the reason you will never see a picture of him showing his face.
Why is he my favorite, you might wonder.
1. It´s an affair
My regular readers know why I love to be a whore. It's the excitement of doing something naughty, immoral. Its the temptation of doing the "prohibited", something other women might fantasize about but don't dare to do. A real turn on. In this case it's even better. Because of his situation, it has the added spice of the risk of getting caught to it. The extra turn on having to be secretive about it. It doesn't feel like escorting any more, if feels like having an affair with a wealthy married man. What a turn on. I think the other nasty bitches amongst my readers understand what I mean.
2. It´s not always just about sex
The M-man is fun to be with. Sometimes we meet and only talk. He has an interesting personality, converses on a certain level and has a good sense of humor.
3. He is potential business partner & funder
He owns a club which is not producing any profits. He sinks a fair amount of money into maintaining it, knowing that chances to make money with it are very limited. It is sort of an expensive hobby and keeps the wife busy.
He is actually thinking about funding my business and become a partner in the venture. Yes, I am a greedy little bitch and fucking my way into funding is far more exciting than sitting in front of a boring banker and having to go through business plans and revenue estimations. Just the thought of getting yet another million Linden, the naughty way, is arousing, a serious turn on.
4. He is good at it
We like the same things when it comes to sex. It doesn't have to be that way. It is all about my lovers preferences and likes. Hey, the pay for it, so I better make sure there are happy. But it is obviously a nice bonus, when I am enjoying myself too.
We just recently met again at my place. We had some banter before that about "rain checks", an expression I have never heard before. Means something like "I have to get back for this another time".
He came to redeem one of his rain checks with me: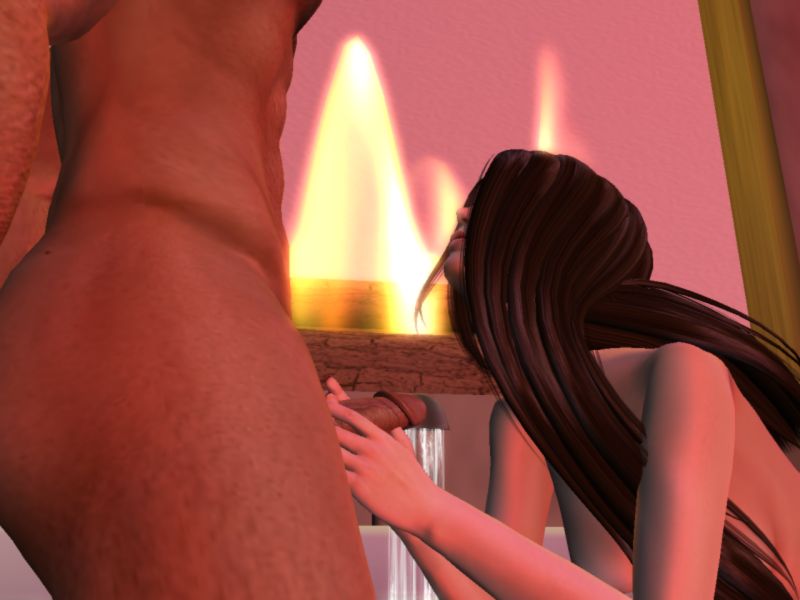 Sex Lessons in Second Life
This is the second kind of client I will continue to entertain. Those are people who do not come with a fuck as a priority but to learn to become better lovers.
These encounters are a mix between explaining stuff and practicing with me. Yes, it involves sex too, but for another purpose than sexual satisfaction (even though my students reach that too during classes).
A few days ago, I had somebody I know since quite some time booking me for such training. He got himself the Tenderlove Sex Hud. This hud is quite different then the usual ones. The menu can be a bit confusing when you first use it.
I showed him pose by pose how it actually works, but not in a boring technical way. Instead I integrated it into sexual role play. A bit like a young man is shown how to make love by a mature lady.
Thinking about that: would be cool story for a movie actually.
He not only learned his way around the menu, but also had a good time doing so. Some teachers can be fun, I am telling you. OK, the subject is potentially more fun than maths.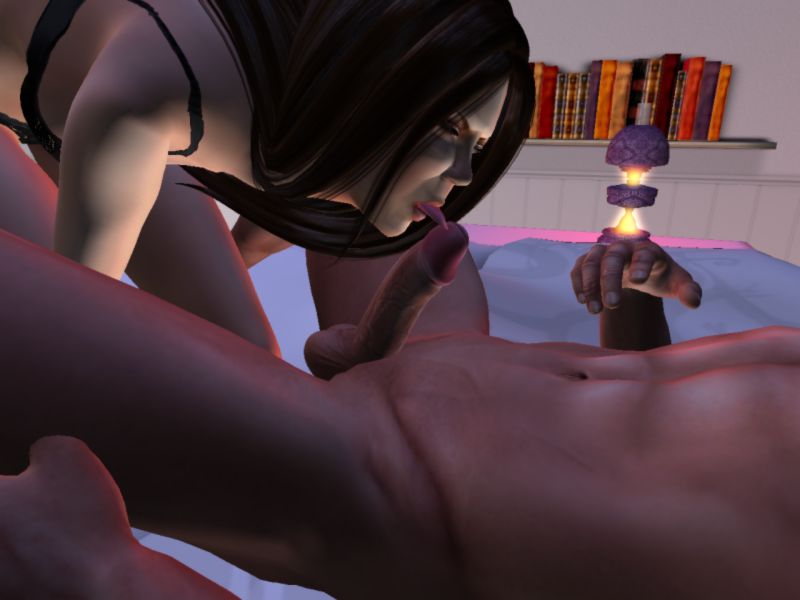 Résumé
All right that was it from the escort front. Yes, that is all I did as an escort so far this year. Not much at my standards but on a much higher level. I am going to keep it that way. Hence anyone needs sex training don't hesitate to contact me. Classes are available daily at an affordable rate and the package comes with a satisfaction guarantee.
For those interested in something more affair-like (affairish): join the Carolines Lovers group and get VIP treatment whenever you are in the mood.
For those who can't afford to become my new lover, or those who just want a quick fuck to release some tension:
Go see Charleen at "Le Camping". This is actually a good way to practice getting the angle of your cock right when changing positions -an urgent need for most guys in SL, trust me I know what I am talking about, have seen hundreds of live examples.
On funny side note: whilst typing this, Charleen is laying on the bed in this AFK-region. I have the viewer running in the background and MS word in a smaller window. I can actually see what is going on there (or most of the time what is not going on).
She got fucked once (I was typing the part about sex lessons at the time) and again no tip, but its hilarious to watch in-between. Oh, a shemale enters the door…Hh my god, its blue furry-shemale with a giant black cock.
I better minimize that window.
Last but certainly not least: Feel free to comment. What you think about my new rent-an-affair or rent-a-sex-teacher positioning?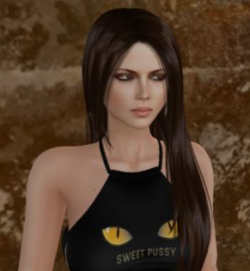 Founder of SLA Media, a company providing adult entertainment websites based on Second Life. Caroline has years of experience in the field of SEO and affiliate marketing. She runs an escort business within Second Life and is well known in the sl adult community.