I was about to log off when Basilisc send me a message.
"Hey how are you doing", he said non-nonchalant.
"Well, I am about to log off actually", I replied.
He explained he was actually hoping for yet another sex date in a hotel with me. We did speak about that previously but didn't get around actually doing it.
I laughed and said: "Well, I have ten minutes left, can you cum in 10 minutes".
"Well, not what I was hoping for, but if you enjoy that, why not".
I was standing in the street. Actually a pretty dirty kinda scruffy street where nearby street whores are waiting for their clients. Quite an ambiance.
The thought to do it right here, in a side street, where anytime somebody could come around the corner. Maybe somebody who is looking for a fuck, a whore getting angry because I fuck for free on their streets.
I took my skirt off. As always wearing nothing under it. Aroused, excited I check if somebody is near. Then did send him the teleport offer.
When he came, naked, I bent over holding myself on that street lamp. That was enough of an invitation and I didn't have to tell him twice.
He came, not bothering about any foreplay and penetrated my already swollen, wet pussy without hesitation. Fuck me hard and fast, eager to cum. Over and over he struck in me, me moaning out loud at every one of his hard strokes into my body.
I climaxed fast this time again. Too hot was the situation, the ambiance everything.
In the end I helped him to cum, wanking his hard and now slippery from my own juices cock till he finally did cum, splashing it over my face.
It was less than 10 minutes.
He left saying: "That was fucking hot, baby".
Hope my readers enjoyed it too. Did you ever do a quickie like that? Please tell me about it, leave your story in the comments here.
Kisses
Jessica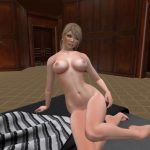 This diary is about the journey of Jessica through Second Life. As Jessica I am a team member of an in-world (in Second Life) company called SLA Media. It is a company which publishes several Second Life related websites (adult rated).