Ok, you guys know by now: I like hotels and partnered guys. Today I got both together.
After I met my reader Basilisc at the hotel Aislin at Cairn Howff, I was still sitting at the hotel bar. Now what? I came here with the mindset that I actually get fucked in here. It didn't happen as he had to attend work in real life. That is actually frustrating. Ok, I got a sex date for this evening out of it.
But I wanted it now!
Another guy joined me at the bar. That one looked promising. We had a drink together and chatted a bit. He is partnered, in an open relationship. Huu, I might get a threesome with a married couple out of this. But this one had to leave as well.
No luck today!?
Then somebody I met (just met not fucked with yet) about a week ago. Back then we just cuddled a bit on the beach until I had to leave.
He asked me back then: "To be continued?"
I said: "Certainly, call when you have time and see me online"!
This guy is hot for two reasons: He is damn good looking and second he is partnered. His wife has no clue he is seeing other women in Second Life from time to time.
"Hey, remember that we have an still open something to be continued, as soon as you have time and if you still fancy me ", I send to him in IM.
"Do you have a place, "he asked. Cool, that sounds like getting laid now!
"Recently I became very fond of hotel rooms, "I replied.
He didn't answer for a couple of minutes. Probably arranging a hotel room, I thought. Damn right. Next was me receiving a teleport offer and landed in a very classy looking hotel room.
He was already on his knees on the bed, a hard on and masturbating a bit.
"I could do with some help", he said.
I am normally not like that. Jumping straight after landing on a cock. But hey, I was horny without much beating around the bush. There and then hence the perfect welcome!
When I took of my cloth, he asked to put on some lingerie. I told him that I don't have any as I am a poor girl. He made me even more excited when he said:
"Damn, will have to take you shopping next time".
The word shopping does push a button with me (well, if he pays for it). Spend some moeny on me and I am your bitch. If any of you out there actually think about doing that: I like boats, planes and I so need a premium mesh body.
It was a hot fuck, believe me. Unfortunately I can only show you pics on which is not recognizable. Imagine wifey sees him fucking the shit out of me. That's what he did actually.
After we finished. I tried to inspect the place.
The rooms are actually gorgeous. Especially that view out of the window. Apparently those rooms are free to use as well and you can even reze your own stuff in there for a certain time.
The weird thing is, I tried to find reception on the ground (you are not allowed to landmark the skybox for obvious reasons), but on the ground is something totally not related to the rooms. I need to ask my friend when I next fuck see him.
He will become a regular.
Now, looking forward to my sex date for the evening at the Aislin at Cairn Howff. Yeah, why do it once a day when you can get it twice a day.
Everybody has hobbies, mine is sex! So what?
Jessica
Btw: Not in Second Life yet? Join here: Join Second Life
 . It's free to use.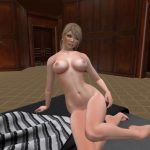 This diary is about the journey of Jessica through Second Life. As Jessica I am a team member of an in-world (in Second Life) company called SLA Media. It is a company which publishes several Second Life related websites (adult rated).