I found yet another special hotel in Second Life.
But first things first. When I woke up that day, I saw my married friend online. He did invite me via teleport offer. Ok, I thought that is a cool way to start the day.
I landed in an apartment at the same hotel we met last time. Just different kind of room. He was standing under the shower. Nice. I slip quickly out of my cloth and seconds later I was standing with him under the shower.
He didn't have much time as he had to go to work soon. Cool, I love fast and hard quickies. Not much talking that morning but a good fuck under the shower. It didn't actually get me to cum, but hey the day is still young.
After he left Clark actually im-ed me. Here we go I thought. He will have to finish off what the other left unsatisfied.
I found it in search: Motel Rouge.
This one is really special. It looks like one of those hippie hostels we know from places like Ibiza , in Spain. The region where the Motel Rouge is located is actually called Ibiza.
The idea of such a place is not just to have a bed for the night. Its more a community thing. Thats why there are shared rooms and common areas for everybody to use and socialize with other guests.
Nice idea. However when I got there with Clark the place was empty. But hey, I did not have socializing in mind. I was horny as fuck.
Clark went to get a room at first. But I had a much sexier idea this time. The place has a hotel bar. A very special hotel bar. We went there and without hesitation I dropped my cloth. No time to loose, I wanted it there and then.
The extra turn on to me was that any minute somebody could walk in and catch us fucking at the hotel bar. Therefor I was as all the time watching the entrance and the lobby, which were easy to see from the bar.
This time it worked out, for both. The Motel Rouge is certainly on my revisit list.
Any of my readers want to join me in hotel testing?
In that case leave a comment here, including a bit about yourself, your user name and which hotel you would like to test with me and why. I will get in touch with you asap. If you are not yet a Second Life resident: Join Second Life
 . It's free to use.
Kisses
Jessica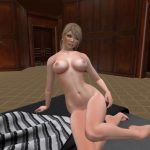 This diary is about the journey of Jessica through Second Life. As Jessica I am a team member of an in-world (in Second Life) company called SLA Media. It is a company which publishes several Second Life related websites (adult rated).